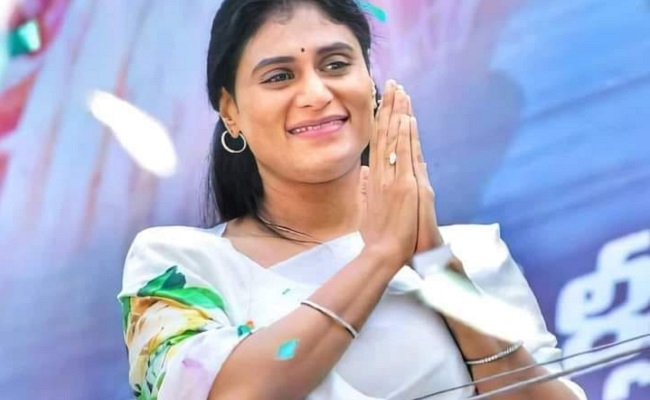 It has almost been 10 months since YSR Telangana party president and Andhra Pradesh chief minister Y S Jagan Mohan Reddy's sister Y S Sharmila has been undertaking padayatra in the state to create her own footprints in the Telangana politics.
Hitherto, the ruling Telangana Rashtra Samithi led by chief minister K Chandrasekhar Rao has not paid much attention to Sharmila's padayatra or her statements.
Apparently, KCR thought Sharmila would only be playing spoilsport with the opposition parties' chances by splitting the anti-establishment vote, albeit marginally and that would ultimately benefit the TRS.
But with the opposition parties, particularly the Bharatiya Janata Party, growing stronger in the state, the TRS leadership has got the intelligence feedback that Sharmila's attack during her padayatra against the KCR government would benefit either the Congress or the BJP by consolidating the anti-TRS vote, instead of splitting the same.
What is more, Sharmila is drawing good crowds to her padayatra in erstwhile combined Mahabubnagar district and that is adding to the panic of the TRS, which is facing a negative wave in the southern Telangana.
That is why, the TRS leaders have started making provocative remarks against Sharmila and attacking her for criticising the KCR government.
While she was undertaking parts of Wanaparthy constituency, local MLA and state agriculture minister S Niranjan Reddy made a derogatory comment against as "Mangalavaram Maradalu" (Tuesday sister-in-law).
He was referring to Sharmila's programme of organising protests in support of unemployed youths in Telangana every Tuesday.
He alleged that Sharmila was touring the State trying to pressurise the state government to fill job vacancies only to benefit the people from AP.
Reacting sharply to his comment, Sharmila described the minister as a dog.
"It is natural for dogs to look at the moon and bark. This behaviour of dogs won't change. What's appalling is that such immoral people are ministers in the current Telangana cabinet," she said.
She wondered whether Niranjan has a wife, daughters, mother or sister and sought to know if he would treat MLC K Kavitha the same way.
"A day will come when these dogs will be driven away," she said and added that "if anyone crosses the line of language, I will speak with slippers."
The TRS leaders also responded again but this time, they lodged a complaint against Sharmila with Telangana Assembly Speaker Pocharam Srinivas Reddy. Minister Niranjan Reddy complained against Sharmila's language to Telangana DGP.
TRS MLAs claimed that Sharmila is making baseless criticism and damaging the reputation of them. They urged Assembly Speaker Pocharam to take serious action against her and prevent her from making personal remarks.
Sharmila told reporters on Wednesday that she was criticising the KCR government only on policy issues but not personally.
"But I will react in the same manner I did, if somebody calls me Maradalu. Don't I have self-respect?" she asked.