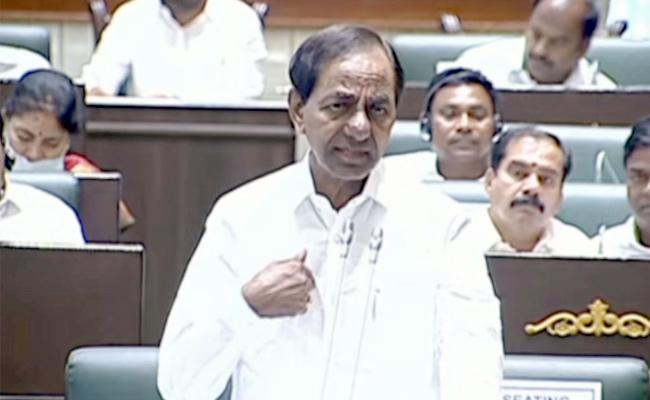 Telangana Rashtra Samithi president and chief minister K Chandrasekhar Rao on Tuesday hinted that the TRS might play a major role at the Centre in future and might even be part of the government at the Centre.
"Anything might happen in politics. Who knows in the coming years, TRS might get an opportunity to dictate terms to the Centre. It might even get a role in the Central government," KCR said, while replying to a short-discussion on Dalit Bandhu scheme.
Stating that the Congress was not the only party which ruled the country in the last 75 years, the chief minister said there were coalition governments at the Centre and for the last eight years, the Bharatiya Janata Party-led NDA had been in power.
"Even in the states, several regional parties have been ruling. They have implemented certain schemes for Dalits but there has been no significant change in their status. What matters is the end result," he said.
KCR said the Dalits were yet to get empowerment and financial independence.
"That is why we have brought in Dalit Bandhu scheme. If the Centre helps us, we shall implement it all over the state strongly," he said.
He pointed out that the Centre had fixed 15 per cent reservations for Scheduled Castes at the national level and state-level, though the SC population had increased considerably across the country.
"As per the Comprehensive Household Survey, Telangana has about 1.03 crore families including 18.22 lakh Dalit families, accounting for about 17.53 per cent of the total families. The percentage could be more, as the survey was conducted six years ago. There is a need to increase the reservations as per the increase in SC population," he said.
He also demanded that the Centre should take up caste-based census, as part of the nation-wide census operations.
"I don't understand why the Centre is reluctant to take up the survey of OBCs in the country. The State Assembly will pass a resolution in favour of caste-based Census and send it to the Centre for necessary action," he said.
Click Here for Latest Direct-to-OTT Releases (List Updates Daily)