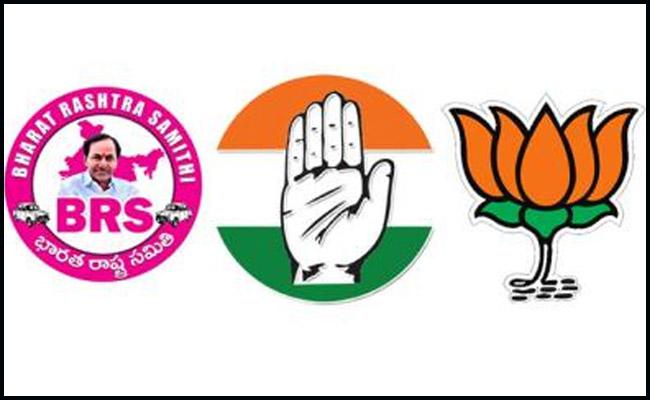 Top national leaders of the Congress, Bharatiya Janata Party (BJP) and other parties will start descending on Telangana from November 24 for the final phase of the campaign for November 30 Assembly elections.
While leaders of ruling Bharat Rashtra Samithi (BRS) and state leadership of both the Congress and BJP are busy campaigning for their respective candidates across the state, the arrival of a battery of national leaders will take the electioneering to a climax.
All the parties, including Bahujan Samaj Party (BSP) and the Left parties, are also gearing up for the final round of rallies, public meetings and road shows.
With the campaigning for the Rajasthan Assembly polls coming to an end on November 23, the national parties will turn their focus to Telangana from the next day.
Prime Minister Narendra Modi, Union Home Minister Amit Shah, BJP national president J.P. Nadda, Congress leaders Rahul Gandhi, Priyanka Gandhi Vadra, Mallikarjun Kharge, BJP ally Jana Sena Party (JSP) leader and actor Pawan Kalyan, BSP leader Mayawati, CPI(M) leaders Sitaram Yechuri and Brinda Karat are scheduled to campaign for their respective party candidates.
Top national leaders of Congress and BJP have already addressed a few election rallies in Telangana during the last one month. The last few days will see all of them camping in the state for the final round of campaigning.
The leaders will focus on Greater Hyderabad in the last three days with major contestants planning mega rallies and roadshows.
Prime Minister Modi is scheduled to campaign in the state for three days from November 25. He will address public meetings in Kamareddy and Maheshwaram on November 25. The next day, he will address rallies in Toopran and Nirmal. He will conclude the campaigning on November 27 with public meetings at Mahabubabad and Karimnagar and roadshow in Hyderabad.
Amit Shah will participate in the campaigning on November 24, 26 and 28. Nadda is also scheduled to campaign in the state for three days.
The BJP will also be roping in Uttar Pradesh Chief Minister Yogi Adityanath, Assam Chief Minister Himanta Biswa Sarma, Goa Chief Minister Pramod Sawant and several Union ministers for the final leg of campaigning.
Union ministers Nirmala Sitharaman and Nitin Gadkari addressed a couple of meetings on Monday. Nirmala Sitharaman, Maharashtra Deputy Chief Minister Devendra Fadnavis and BJP Tamil Nadu state president Annamalai are scheduled to participate in the campaigning on Tuesday (November 21).
Top Congress leaders Rahul Gandhi and Priyanka Gandhi are scheduled to address over 20 public meetings from November 24 to November 28. Priyanka Gandhi will cover 10 Assembly constituencies from November 24 to 27. Rahul Gandhi will campaign in the state from November 24 till the conclusion of the campaign.
BSP leader Mayawati will be arriving in Hyderabad on Tuesday evening. She will campaign for the party candidates for the next two days. She is scheduled to address public meetings in Suryapet and Peddapalli.
BSP has fielded candidates in all 119 constituencies.
CPI(M) national General Secretary Sitaram Yechury, politburo members Brinda Karat, Subhashini Ali, A. Vijayaraghavan and other leaders will campaign for the party candidates in Nalgonda, Khammam and Hyderabad for three days from November 25.
The CPI(M) fielded candidates in 18 constituencies after it failed to reach a seat-sharing agreement with the Congress.
The Congress has left one seat for the Communist Party of India (CPI)
BRS president and Chief Minister K. Chandrasekhar Rao is leading the party's campaign. He has been addressing two to three public meetings every day. BRS working president K.T. Rama Rao and another key leader T. Harish Rao are also campaigning for the party candidates.
Aiming for a third consecutive term in power, BRS has planned a huge public meeting in Hyderabad on November 25. KCR will conclude the campaigning with public meetings in Warangal and Gajwel on November 28.
Jana Sena Party (JSP) leader Pawan Kalyan will also start campaigning for BJP-JSP candidates from November 22. JSP has fielded candidates in eight constituencies.
In Hyderabad, Majlis-e-Ittehadul Muslimeen (MIM) leaders Asaduddin Owaisi and Akbaruddin Owaisi are campaigning for their party candidates. MIM is contesting nine seats, all in Hyderabad.