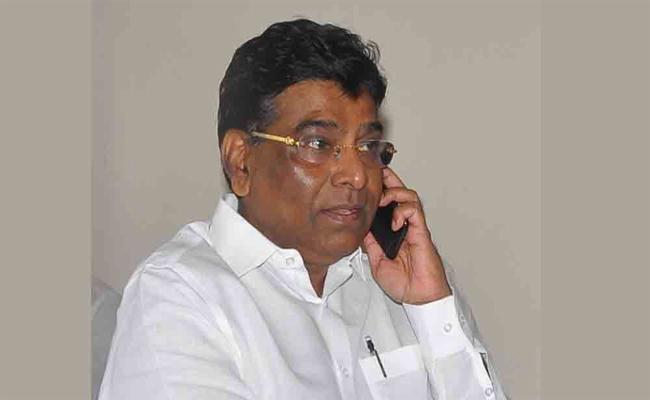 Within hours of Telangana Rashtra Samithi president and chief minister K Chandrasekhar Rao launching a broadside against Bharatiya Janata Party and Prime Minister Narendra Modi, the Centre has begun crackdown on his party leader Nama Nageshwar Rao.
Nama, who was on the dais where KCR was felicitating Opposition's presidential candidate Yashwant Sinha at Jala Vihar near Necklace Road, was shocked to get the notice from Enforcement Directorate authorities attaching the properties belonging to his group companies –Madhucon.
The ED, in an official relase, said it has attached 105 immovable properties and other assets worth Rs 96.21 crore belonging to Madhucon Group of companies and its directors & promoters in a money laundering case against M/s Ranchi Expressway Ltd Bank Fraud, under the provisions of PMLA, 2002.
It said the PMLA investigation was initiated in this case on the basis of CBI FIR registered on March 12, 2019 by CBI Ranchi, registered against M/s Ranchi Expressways Limited (A Madhucon Group company) & its Directors. Subsequently, CBI filed a charge sheet on December 30, 2020 before the CBI court, Ranchi against Madhucon group.
In this case, NHAI had awarded project of 4-laning of NH-33 from 114 Km to 277.50 KM (approx 163.50 KM) on Ranchi-Rargaon-Jameshdpur Section on annuity basis on design, built, finance, operate and transfer (DBFOT) pattern to M/s Madhucon Project Limited on 18.03.2011.
A Special Purpose Vehicle (SPV) M/s Ranchi Expressway Limited was incorporated by Madhucon Group, to execute this project.
Madhucon Group couldn't complete the project despite availing the full loan amount, and subsequently, their contract was terminated and a FIR was booked based on the directions of the Hon'ble High Court which were in turn based on the reports of SFIO and NHAI.
ED conducted searches, recorded the statements of multiple Bankers, Forensic Auditors, Engineers, subcontractors and promoters of Madhucon Group and conducted fund trail investigation.
During the search operations in June 2021, ED seized incriminating evidences and unaccounted cash of Rs 34 lakh was also found and seized from the residential premises of Madhucon Group's Chairman Mr Nama Nageshwar Rao.
ED investigation revealed that M/s Ranchi Expressways Limited represented by its directors & promoters obtained loans of Rs 1030 Crore (Approx) from the consortium of banks led by Canara Bank.
Madhucon Group did not utilize the entire loan amount for its stated purposes, and diverted it to its associated entities and utilized it for other works and also directly siphoned off the loans by giving bogus works to its related shell entities.
The work on the ground suffered and they could not complete the work despite drawing the entire loan amount. They also managed the maintenance reports and work progress reports to falsely claim higher expenses, it said.