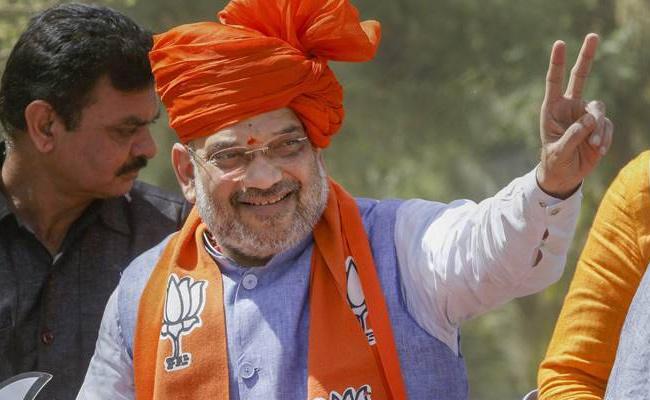 Bharatiya Janata Party will definitely form the next government in Telangana defeating the Telangana Rashtra Samithi inn the next assembly elections, Union home minister Amit Shah said on Friday.
Participating in a public meeting at Nirmal town on the occasion of the Telangana Liberation Day, Shah expressed confidence that the BJP would also win all the 17 Lok Sabha seats from Telangana in the next general elections to be held in 2024.
Stating that Telangana state had been held captive in the hands of a single family of Telangana Rashtra Samithi, the Union home minister said the BJP would make all out efforts to liberate the state from the clutches of K Chandrasekhar Rao family.
"Only then will the people of Telangana breathe easy and get the real freedom," he said.
He pointed out that before 1948, Telangana was facing a similar situation, reeling under the autocratic rule of the Nizam.
"It was Sardar Vallabh Bhai Patel, who took courageous measures to liberate the erstwhile Hyderabad state from the Nizams and got it merged with Indian Union, 13 months after India attained independence," he said.
Shah launched a tirade against the KCR government for not celebrating the Telangana Liberation Day on September 17 every year.
He said the TRS chief was afraid of Majlis-e-Ittehadul Muslimeen led by Owaisi, who represented the Razakars, the private army during the Nizam rule.
"When the neighbouring states of Karnataka and Maharashtra are celebrating the liberation day in the regions which were once part of the Hyderabad State during the Nizam regime, why prevented the Telangana government from not celebrating?" he asked.
Shah asserted that after the BJP formed the government in Telangana, it would officially celebrate the Telangana Liberation Day.
"Unlike the TRS, we are not afraid of Majlis party. We shall commemorate the sacrifices made by the people of Telangana, including Dalits and girijans, for the liberation of Hyderabad state," he said.