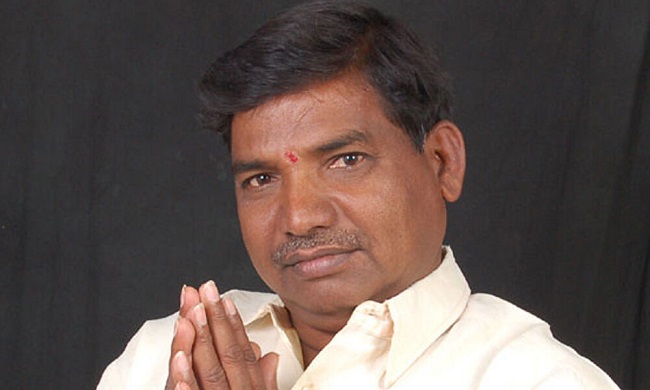 Senior Telugu Desam Party leader and former MLA Bakkani Narasimhulu was on Monday appointed as the president of Telangana unit of the TDP.
Telugu Desam Party president and former Andhra Pradesh chief minister N Chandrababu Naidu announced Narasimhulu's name in a one-line statement in the morning.
Narasimhulu would be replacing former minister L Ramana, who recently defected to the Telangana Rashtra Samithi.
Narasimhulu met Naidu and his son Nara Lokesh, who is also party general secretary, at the party office and extended his thanks for giving him the new responsibility.
The TDP bosses congratulated him and stressed the need for standing by the side of the people and fight for solutions to their problems.
In fact, it is an open secret that Narasimhulu's appointment as the Telangana TDP chief, will hardly make any difference for the party, which has already become defunct for all practical purposes.
The party is in existence in Telangana only for the name sake without any programmes and activities.
Except the two MLA seats it had won in 2018 (who recently defected to the TRS ultimately), the party has not been winning any elections in the state and has been reduced to a virtual non-entity.
There are hardly any leaders left in the Telangana TDP and the cadre is also completely lost over a period of time.
That is precisely why no leader evinced any interest in taking up the responsibility after Ramana quit the party, as there is no activity for them to do and no programmes are being organised.
Narasimhulu, who represented Shadnagar assembly constituency once between 1994 and 1999, is not a big name in the party, except that he had headed the Mahabubnagar unit of the TDP long ago. There are no instances of Narasimhulu being a serious contender for any post.
At least a leader like Ravula Chandrasekhar Reddy is a known name in the state, as he was the government chief whip in the assembly and also a Rajya Sabha member. But Naidu chose Narasimhulu apparently on caste equations.
It doesn't matter for the TDP in Telangana, which is anyway rejected by the people already!
Click Here for Latest Direct-to-OTT Releases (List Updates Daily)