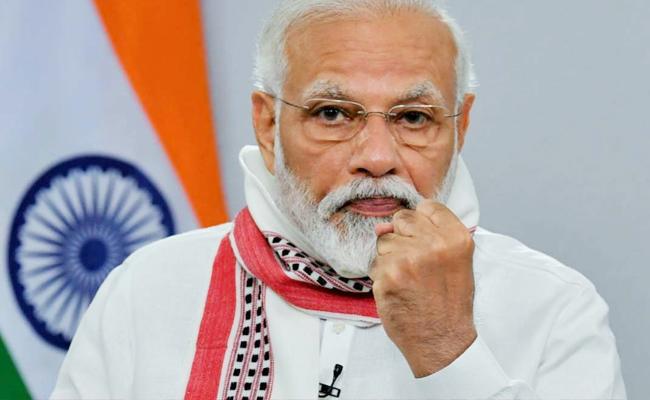 Prime Minister Narendra Modi's visit to Ramagundam in Telangana's Peddapalli district to dedicate revived Ramagundam Fertilisers and Chemicals Ltd (RFCL) to the nation on November 12 triggered a fresh war between the ruling Telangana Rashtra Samithi and the Bharatiya Janata Party.
The BJP is trying to make Modi's visit a major event, ostensibly to project itself as a champion of farmers, while the TRS has shot back at the BJP saying it was ridiculous that the Prime Minister is inaugurating the RFCL which started its operations more than a year-and-a-half ago.
As a precursor to Modi's visit, the BJP is planning to organise a programme called "Rythe Raju" (farmer is king) at all mandal headquarters on November 10, taking out kilometre-long rallies by farmers.
The BJP leaders are claiming that the Modi government has revived the RFCL with Rs 600 crore to ensure supply of fertilisers to farmers at affordable rates.
The party is also planning to hold a press conference on November 11 to explain to the people what the Modi government was doing for the farmers.
On November 12, the BJP is planning to organise a public screening of the Modi's Ramagundam event at a function hall in every constituency, where thousands of farmers would be mobilised.
And at Ramagundam, the BJP is planning to mobilise at least a lakh of people from different parts of Karimnagar, Peddapalli and Mancherial districts to the Prime Minister's programme.
As expected, TRS president and chief minister K Chandrasekhar Rao would be skipping the Prime Minister's function at Ramagundam and even his arrival at Begumpet airport at 1.30 pm.
The TRS took to Twitter to attack the Modi government for not following the protocol at the RFCL launch event by not extending a formal invitation to the chief minister, despite the fact that the state government has 11 percent stake in it.
The TRS also mocked at Modi for dedicating Ramagundam fertilisers more than one a half years after it started commercial operations.
Quoting the RFCL website, the TRS leader quoted above said the RFCL declared its commercial operations on March 22, 2021. During 2021-22, the RFCL produced 4.90 lakh tonnes of urea, they said.