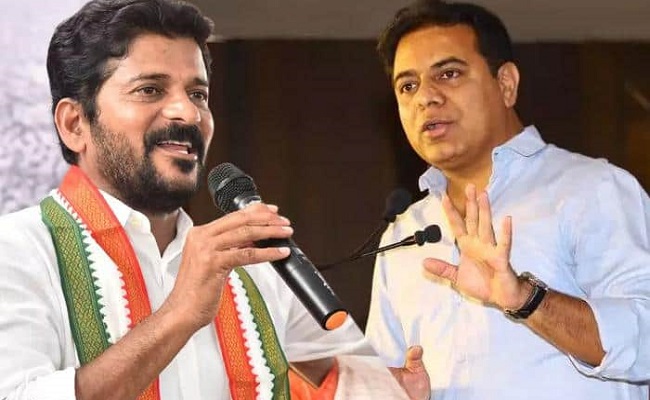 Telangana Rashtra Samithi working president and state IT minister K T Rama Rao on Monday filed a civil defamation case against Telangana Pradesh Congress Committee president and Malkajgiri MP A Revanth Reddy for linking him with the ongoing investigation into the alleged drug supply in Tollywood.
KTR filed a petition to this effect in Hyderabad City Civil Court stating that Revanth Reddy was spreading lies with political vengeance. He also requested that the court grant perpetual injunction against Revanth Reddy.
The minister alleged that the PCC chief made various 'baseless, scurrilous, and manifestly false statements and allegations' made against him seeking to falsely link him with the ongoing investigation being conducted by the Enforcement Directorate against allegations of drug and psychotropic substances abuse by certain accused persons.
The civil suit contends that the said investigations are being done against the said accused and as a part of investigation various persons are being examined.
KTR said Revanth Reddy had been spreading false propaganda against him and using his name maliciously, though he had denied any association or link with those being investigated for the alleged acts.
The minister sought a declaration that such false statements made by the Congress MP are 'slanderous, libelous and constitute defamation'.
He also sought an appropriate injunction against making such defamatory statements and to take down all such false statements/ accusations.
He also sought adequate compensation to be paid for such serious and malicious acts of defamation caused by Revanth Reddy and further criminal proceedings be initiated.
In a statement, he said he was confident that the court would recognise the false propaganda being leveled against him and appropriately punish the perpetrators of such malicious activities.