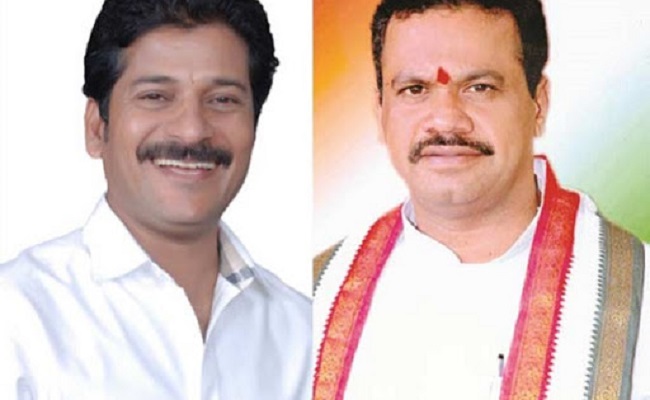 In a surprising development, former minister and senior Congress MP from Bhongir parliamentary constituency Komatireddy Venkat Reddy came down to Gandhi Bhavan, the party headquarters in Hyderabad after a long gap on Friday.
Not only that, Komatireddy also closeted with Pradesh Congress Committee president A Revanth Reddy, whom he had been strongly opposing all these days. Both of them had a one-on-one discussion for over an hour.
Nobody knows what exactly has transpired between the two, but after the meeting, Komatireddy declared that he was ready to resume his responsibilities as the star campaigner of the Pradesh Congress Committee.
"I will take part in the Haath-se-haath jodo" campaign of the party, as directed by the high command, from January 26. I never said I won't come to Gandhi Bhavan. I am ready to work for the party always," Komatireddy said after the meeting.
Apparently, Komatireddy came to Gandhi Bhavan on the invitation of newly appointed AICC in-charge of Telangana affairs Manikrao Thakre and met Revanth Reddy. It is learnt Revanth had promised to take Komatireddy into confidence in all the party decisions.
In a way, Komatireddy's U-turn is a sort of shock to other seniors who revolted against Revanth Reddy. It appears they, too, would fall in line in the wake of the party high command's direction to work together ahead of the elections to the state assembly in the next few months.
At one stage, there was a talk that Komatireddy would also quit the Congress on the lines of his younger brother Rajagopal Reddy, who defected to the BJP and unsuccessfully contested in Munugode by-elections.
The Congress high command also issued him a showcause notice to Komatireddy on disciplinary grounds, but later, did not insist on the same. It is learnt he has mellowed down after the sacking of Manickam Tagore as the AICC in-charge of Telangana affairs.