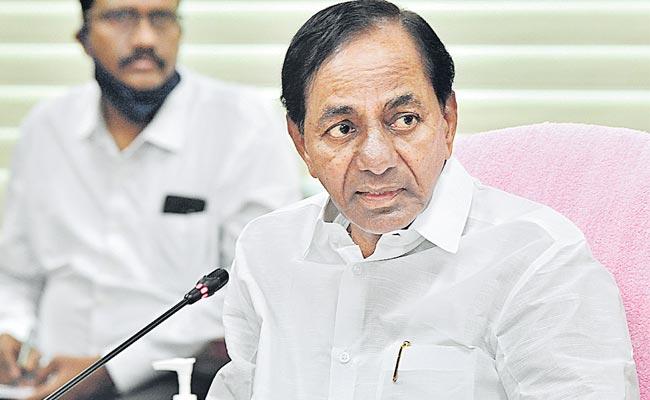 As expected, Telangana Rashtra Samithi president and chief minister K Chandrasekhar Rao conveniently skipped Prime Minister Narendra Modi's visit to Hyderabad on Saturday.
Though KCR decided against attending Modi's programme on Friday itself, as was evident from the designation of his cabinet colleague Talasani Srinivasa Yadav as minister-in-waiting to receive and see off the Prime Minister at the airport, the CMO sources refused to confirm the same till late in the night.
The spokespersons in the CMO sought to create an impression that KCR would, indeed, receive the PM and travel with him as per the protocol. All the mainstream media carried the same information that KCR would follow the protocol and receive Modi.
However, a few minutes before the arrival of the chief minister on Saturday, it was leaked to the media that KCR was suffering from fever and wouldn't be able to go to the airport to receive the Prime Minister.
They also told the media that if his fever subsides, the chief minister would attend the Ramanujacharya statue unveiling ceremony at Muchintal in Chinna Jeeyar Swamy ashram in the evening. But going by the mood of KCR, it is unlikely that he would also skip the statue inauguration function.
It is for the first time that KCR would be moving away from the protocol norms in not receiving and seeing off the Prime Minister, when he came to the state.
On November 28, 2020, too, KCR did not receive the Prime Minister at the Hakimpet airport when the latter came to Genome Valley to inspect the Covid-19 vaccine making facility at Bharat Biotech.
However, at that time, the PMO itself asked KCR not to come to the airport to receive him. Only five persons including the chief secretary Somesh Kumar, Director General of Police M Mahendar Reddy, then Cyberabad Commissioner V C Sajjannar and Medchal District Collector Shweta Mohanty were allowed to receive the Prime Minister.
This time, however, KCR chose to stay away from PM visit on his own and deputed Talasani as the minister-in waiting to receive and see off the Prime Minister on his arrival and departure.
It was only three days ago that KCR made strong comments against Modi and even asked the people to dump the Modi-led BJP government at the centre in Bay of Bengal. Though KCR said he would follow the protocol during the Prime Minister's visit to Hyderabad, he did not do so.
On January 13 this year, KCR skipped the video conference convened by Modi with CMs of various states and senior officials to review the Covid-19 situation. Instead, he deputed health minister T Harish Rao and chief secretary Somesh Kumar to attend the meeting.