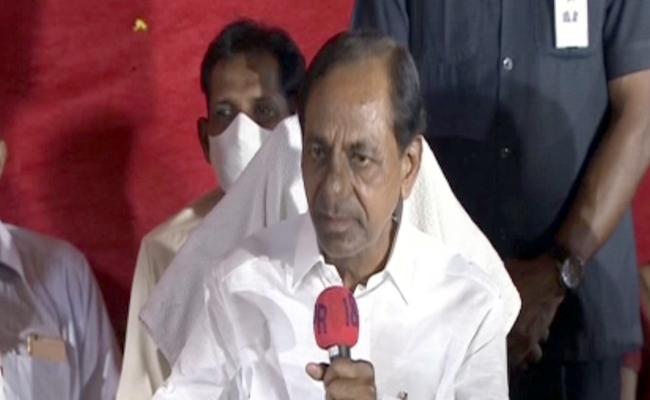 Telangana Rashtra Samithi president and chief minister K Chandrasekhar Rao, who conveniently skipped the swearing-in ceremony of newly-elected President of India Droupadi Murmu in New Delhi on Monday morning, suddenly left for the national capital in the evening.
According to the party sources, KCR has prepared his policy document on the launch of national party and might make an announcement in Delhi.
He is expected to be in the capital for a couple of days and it remains to be seen whether he will really make any such announcement.
Interestingly, KCR, who had dismissed the reports of floating a federal front with other like-minded parties in the past and indicated about floating of a new national party, revived his talks with other parties once again recently.
The TRS chief extended support to the candidature of Yashwanth Sinha, fielded by Trinamool Congress and other parties, including the Congress party, and even accorded a massive reception to him in Hyderabad.
He even directed his party leaders to attend the meeting of the opposition parties at Congress leader Mallikharjun Kharge's office to extend solidarity with Congress president Sonia Gandhi who was grilled by the Enforcement Directorate.
Now, the TRS chief is going to Delhi on his national mission, which nobody knows what it is. Interestingly, the team that accompanied him has a strange composition: chief secretary Somesh Kumar, MPs J Santosh Kumar, G Ranjith Reddy, L B Nagar MLA D Sudhir Reddy, TRS general secretary R Sravan Kumar Reddy and former Karimnagar mayor Ravinder Singh.
Nobody knows what role each leader would play in KCR's national mission. Party sources say the TRS chief would also hold meetings with leaders of other opposition parties to discuss the Vice Presidential elections.
But since Margaret Alwa is a Congress-sponsored candidate, one wonders whether KCR will support her or remain neutral.
As usual, the party sources say KCR will hold meetings with several intellectuals and senior journalists of national media. But nobody knows who they are.
So, the drama continues, unless he comes out with clarity on his plans!