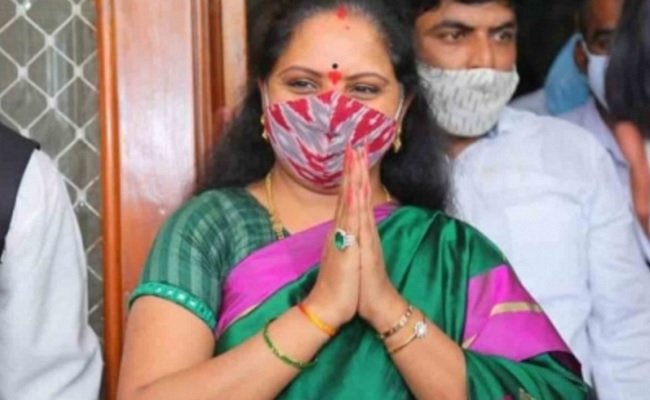 Contrary to the reports that former MP and Nizamabad MLC Kalvakuntla Kavitha, would be nominated to Rajya Sabha, her father and Telangana chief minister K Chandrasekhar Rao has announced her candidature only for the state legislative council for a second term.
Kavitha's name was finalised along with 11 others under the local bodies' quota on Monday. She would be filing her nomination in Nizamabad on Tuesday, party sources said.
The TRS president also gave the MLC ticket to former Telangana Telugu Desam Party president L Ramana, who defected into the TRS recently. He, along with outgoing MLC Bhanu Prasad, was nominated under Karimnagar local bodies' constituency.
The others are: Shambipur Raju and Patnam Mahender Reddy from Ranga Reddy district, Kasireddy Narayan Reddy and K Damodar Reddy from Mahabubnagar, Pochampalli Srinivas Reddy from Warangal, Dande Vithal from Adilabad, M C Koti Reddy from Nalgonda, Tatha Madhu from Khammam and Dr Yadava Reddy from Medak.
There were reports earlier that Kavitha was not interested in the MLC elections and was asking her father to nominate her to Rajya Sabha.
When KCR withdrew sitting Rajya Sabha member Banda Prakash and gave him the MLC seat, everybody expected that he would send Kavitha in Prakash's place.
But surprisingly, KCR chose to nominate his daughter to state legislative council, rather than RS. And she has no option but to accept the same!