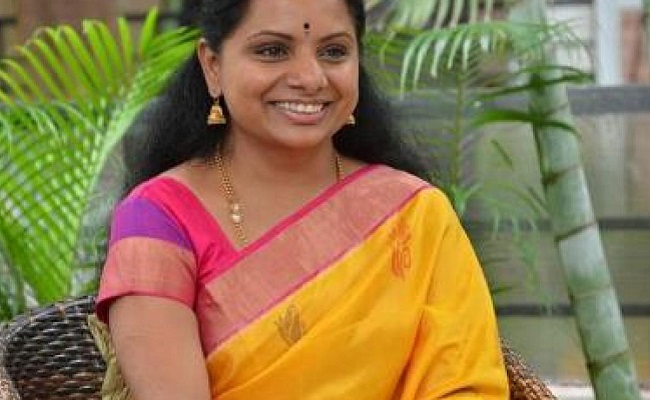 Telangana Rashtra Samithi president and chief minister K Chandrasekhar Rao's daughter and MLC Kalvakuntla Kavitha, who had virtually gone into political oblivion after her defeat in the Nizamabad parliamentary elections in April 2019, is now getting back her full glory.
In fact, Kavitha started coming into the limelight after winning the by-elections to the MLC seat from Nizamabad local bodies' constituency in October 2020. But still, she was maintaining a low profile and was only appearing in public occasionally.
Reason: there was a talk that KCR will step down and make his son K T Rama Rao as the chief minister of Telangana and there had been enough indications to that effect.
Kavitha was uncertain as to what her position would be, if her brother becomes the CM – whether she would become the minister in his cabinet or would be given any responsibility in the TRS or even sidelined.
So, she was lying low for some time. However, after KCR categorically declared that he would continue as the chief minister and there was no question of handing over the CM's position to anybody, Kavitha has become relaxed.
Since then, she has been making every attempt to garner the publicity. She has been extensively touring places, meeting people, participating in various activities, taking out rallies and addressing various meetings.
There has been massive publicity to every step of Kavitha of late. On Saturday, when she celebrated her birthday, there was a huge publicity for her across the state.
There were hoardings, Rangolis, plant saplings, distribution of food and sarees to the people and cutting of cakes by the party workers.
During the celebrations she was hailed as the epitome of courage and the daughter of Telangana who brought fame to the floral festival Bathukamma, worldwide.
To mark Kavitha's birthday 30 bicycles and 6 Three wheeler scooters were distributed to the girls and specially abled people.
Several TRS leaders including home minister Mahmood Ali, Musheerabad MLA Muta Gopal, SATS Chairman Allipuram Venkateshwar Reddy and senior TRS leaders participated in the birthday celebrations organised by Telangana Jagruthi Chapter at state body.
Party's legislators, Chairmans of various corporations & Senior leaders participated in the events organised for the occasion in districts by planting saplings, distributing fruits, organising blood donation camps, cutting cakes across the state.