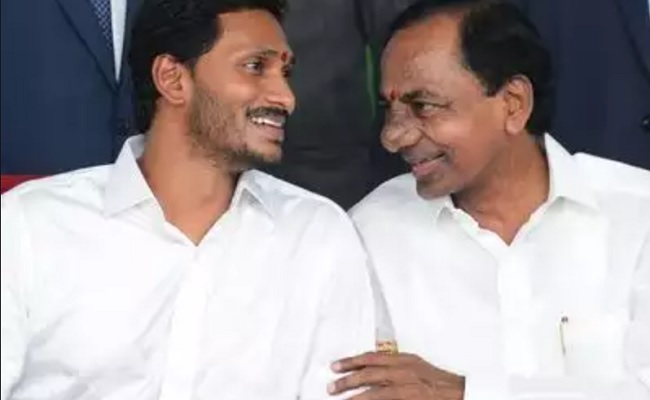 The decision taken by the TRS government led by CM KCR to continue salary cuts for all its employees, pensioners and public representatives ranging from 10 per cent to 60 per cent for the third consecutive month has triggered intense debate in the media.
More often than not, KCR claimed that Telangana is a revenue surplus state and had achieved considerable growth in Gross State Domestic Product, notwithstanding cuts in fund flow from the Centre and general slump in economic growth all over the country.
On the other hand, Andhra Pradesh chief minister Y S Jagan Mohan Reddy has been saying that there is a severe financial crisis in the state due to lack of revenues and bankrupt exchequer handed over by the previous Telugu Desam government.
Because of severe financial crunch on account of lockdown being enforced to contain the spread of Covid-19, both Telangana and Andhra Pradesh were forced to announce salary cuts for the employees, pensioners and even public representatives, ranging from 10 per cent to 75 per cent.
In fact, Jagan went a step ahead and announced that all the public representatives would undergo 100 per cent salary cut, as against 75 per cent in Telangana. Later, he withdrew salary cuts for police, doctors and sanitation wing employees of the municipalities and KCR was forced to follow Jagan.
But after the first two months of salary cuts, Jagan announced payment of full salary to all its employees and pensioners with effect from May. Surprisingly, KCR announced that the salary cuts would continue for all the employees for the third consecutive month.
What is worse, KCR also withdrew cash assistance of Rs 1500 being paid to the poor families below poverty line with effect from this month on the pretext that these sections are able to go to their daily work because of relaxation of lockdown guidelines.
One wonders how Jagan could improve his state's financial position so dramatically, while KCR has failed to save the state from going bankrupt. If Telangana has not been able to get revenues from any section, AP, too, has not been getting the same.
KCR blames it on the centre for a deep cut in the central devolutions to the state, but it is not just Telangana, but every other state including AP got the same cut in the central taxes.
So, somewhere, something has gone wrong for Telangana!
CLICK HERE!! For the In Depth Updates on all the OTT Content