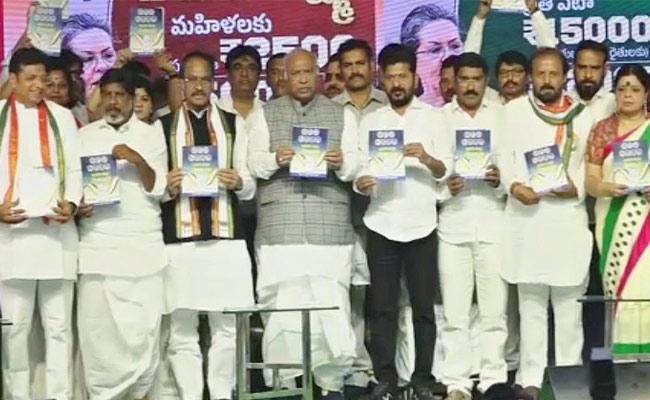 A daily 'praja darbar' at the chief minister's official residence, interest-free crop loans up to Rs 3 lakh, a judicial inquiry into irregularities in Kaleshwaram Lift Irrigation Project and other corruption allegations and scrapping of Dharani portal are among the promises made by the Congress in its manifesto for Telangana Assembly elections.
A comprehensive crop insurance scheme for all major crops, Rs 1,00,000 and 10 grams of gold as Indiramma gift to the Hindu and Rs 1,60,000 for the minority girls at the time of their marriage, financial assistance of Rs 12,000 per year to every auto rickshaw driver and social security to unorganized workers are among the other major promises.
The Congress party has promised "Bhumata" portal in place of the Dharani portal and assured that justice will be done to all farmers who have lost their land rights.
Other than the six guarantees announced two months ago, the party has included a slew of promises for various sections in the manifesto for November 30 elections.
Titled 'Abhaya Hastam', the 42-page manifesto was released on Friday by AICC president Mallikarjun Kharge in the presence of Telangana Pradesh Congress Committee (TPCC) president A. Revanth Reddy, Congress Legislature Party (CLP) leader Mallu Bhatti Vikramarka and other leaders.
Six guarantees unveiled on September 17 and the declarations already released by the party for farmers, youth, Scheduled Castes, Scheduled Tribes, backward classes and minorities form part of the manifesto.
"To end the unprecedented dictatorship of the present TRS/BRS government, Congress is committed to restore democratic governance as per the spirit and wishes of the Telangana people. As in the past, the Congress Government is committed to restore Praja Darbar daily at the CM camp office," reads the manifesto.
It said an MLA will also be constantly available to the people of their constituency and hold regular 'Praja Darbars'.
A judicial inquiry will be conducted by a sitting High Court judge into all irregularities and corruption in the construction of the Kaleshwaram Lift Irrigation Project. Legal action will be taken, based on a full-fledged inquiry by a retired High Court Judge on the various scandal and corruption allegations in the rule of the BRS/TRS government.
Abolishing the current Contributory Pension Scheme (NPS) and re-introduction of the Old Pension Scheme (OPS), Right to Public Services Act, one-time settlement of pending traffic challans with a 50 per cent discount, three new corporations for the Madigas, Malas, and other SC sub-castes after the SC categorization, increased reservations based on population for BCs after conducting a caste census for BCs.
The Congress also promises revival of "Bangaru Thalli" scheme to provide financial assistance for every girl child born and free electric scooters to every girl studying higher education and are above the age of 18.
It has also promised a monthly honorary pension of Rs 25,000 to the parents or spouse of the martyrs of the first and second phases of the Telangana movement, and provide a government job to one member of their family.
It will also withdraw the cases against the Telangana movement activists and allocate them a 250 yards house site.
If voted to power, the Congress will waive off the crop loans of farmers up to Rs 2 lakh.
Farmers will be given interest-free crop loans of up to Rs 3 lakhs.
Farmers will be provided with uninterrupted free power for 24 hours and a comprehensive crop insurance scheme will be provided for all major crops.
The Congress also promised that all vacant teacher posts will be filled through Mega DSC (District Selection Committee) within 6 months.
A rural youth financial corporation will be set up with initial capital of Rs 1,000 crore to provide self-employment opportunities by encouraging startups and small and medium scale industries.
Annual job calendars will be released and 2 lakhs vacant posts will be filled transparently within a specified time period.
Free internet through Wi-Fi facilities will be provided to all students. It will also increase the allocation of the budget for the education sector from the present 6 per cent to 15 per cent.
Around 6,000 closed schools will be reopened with better facilities. Four more IIITs will be set up similar to Basara IIIT.
The Congress also promised the Land Commission to resolve all land rights issues.
"We will provide full land rights to the beneficiaries on 25 lakh acres that were distributed to the poor through land reforms."