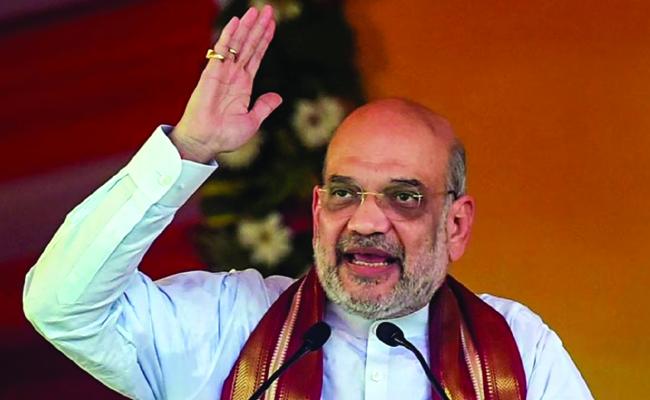 The BJP in its manifesto for Telangana has promised to form a committee headed by a retired Supreme Court judge to go into alleged corruption by the Bharat Rashtra Samithi (BRS) government, headed by Chief Minister K Chandrashekar Rao, popularly known as KCR.
Home Minister Amit Shah, who is campaigning in the southern state, today alleged KCR has turned Telangana into a hub of corruption and the state is facing a huge economic debt due to his inefficient policies.
"Your one vote in the upcoming elections will decide the future of Telangana and India. Telangana was a surplus state when it was formed, but today KCR has put the state in a debt of more than ₹ 3 lakh crore. KCR has made Telangana a hub of corruption. BRS means - Bhrashtachar Rishwatkhori Samithi," Mr Shah said at a rally in Warangal today.
The party has also promised to fast-track sub-categorisation in reservations to ensure that most disadvantaged and underprivileged among SCs are empowered. "We will remove unconstitutional religion-based reservations and provide this to OBCs, SCs and STs," the BJP has said.
The BJP has further promised to bring down inflation by making petrol and diesel cheaper by reducing VAT in line with other BJP states. "In addition to the Modi Government's fertiliser subsidy of over ₹18000/- per acre, we will provide ₹2,500/- as input assistance to small and marginal farmers to enable them to procure seeds and fertilisers," it has promised in its manifesto.
The BJP further said: "The National Turmeric Board that has been established by the Modi Government will support turmeric farmers to bring about value addition such that the export of turmeric gets a fillip. We will establish processing centres to boost employment generation."
The BJP has also promised to provide Rs 3,100 MSP on paddy and required market intervention fund for turmeric. The party has further promised to purchase the entire rice produce in Telangana, provide free crop insurance to farmers through the PM Fasal Bima Yojana and provide gas cylinders free of cost annually to Ujjwala beneficiaries.
As part of its Aada-Bidda Barosa scheme, the BJP, if it forms a government in the state, has promised to offer fixed deposits at the time of birth of a newborn girl child so that Rs 2,00,000 can be redeemed when the girl is 21 years old. BJP has also promised free laptops for all girl students who enter undergraduate degree or professional college courses.
Additionally, the BJP has promised to give loans at nominal 1% interest to women self-help groups, conduct state recruitment exams in transparent and time-bound manner in line with the way in which the Union Public Service Commission (UPSC) exams are conducted.
It has promised free milk-yielding cows to willing small and marginal farmers, provide coverage of Rs 10 lakh per eligible family per annum for secondary and tertiary care across public and private hospitals, free annual health checkups for all economically weaker residents of the state, and to represent the case of Telangana "legitimately" to get the rightful share of Krishna river waters.
Among its promises are timely payment of salaries and pensions to employees and retirees respectively on the first of every month, formation of a committee to draft a uniform civil code to consolidate and harmonise various personal laws, provide homes to the homeless, free Ram Mandir and Kashi Yatra for senior citizens, and a fully-functional NRI department/ministry to extend timely support to overseas residents, especially in the Gulf region.