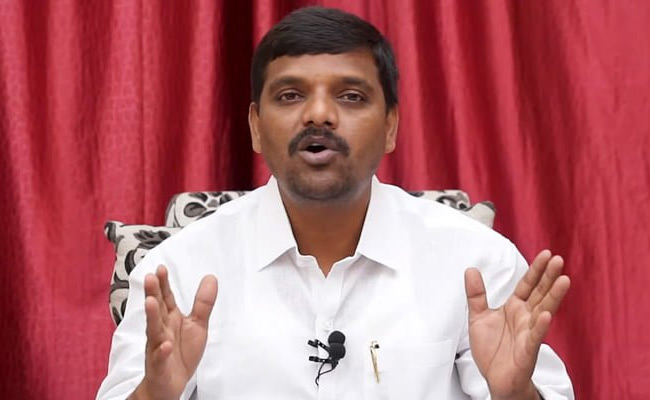 After former health minister Eatala Rajender, the Telangana Rashtra Samithi leadership now appears to be targeting journalist-cum-social worker Teenmar Mallanna, who gave the TRS a run for its money in the recent MLC elections in the Warangal-Khammam-Nalgonda Graduates' Constituency.
Rajender, who was sacked from the cabinet on the charges of land grabbing, was forced to take shelter in the Bharatiya Janata Party to protect himself. Now, similar allegations of corruption are being levelled against Teenmar Mallanna.
On Saturday, Chiluka Praveen, working as bureau chief Q News web channel being run by Teenmaar Mallanna and spokesperson of the Mallanna team, came out in the open with wild allegations against the latter.
Praveen alleged that Mallanna, who belongs to Munnuru Kapu caste, does not have any concern for Dalits, but was playing politics in the name of Dalits.
"The Q News Channel doesn't have even a single Dalit and all the family members of Mallanna were in key positions. He gives importance only to his own caste," he said.
Stating that Mallanna was blackmailing people in the name of the channel, Praveen said the only agenda of Mallanna was to attack KCR.
"He accuses KCR of encouraging family rule in the party. But is he not encouraging family rule in the channel?" he asked.
He alleged that Mallanna was planning to collect Rs 50 crore in the name of social service.
"He has collected money from several people stating that he would float a new party and give them MLA tickets. In the past, he had taken donations from KCR also," Praveen said.
He further alleged that he had found Rs 2 crore hard cash in the cabin of Mallanna.
"When I enquired about the same, he quarrelled with me and removed me from the channel," Praveen said and threatened to expose Mallanna's misdeeds very soon.
Two others from Mallanna Team also made similar allegations that he had collected Rs 500 crore from various political party leaders by blackmailing them.
"He was the one who brought pressure on Eatala Rajender to resign from the TRS," they said.