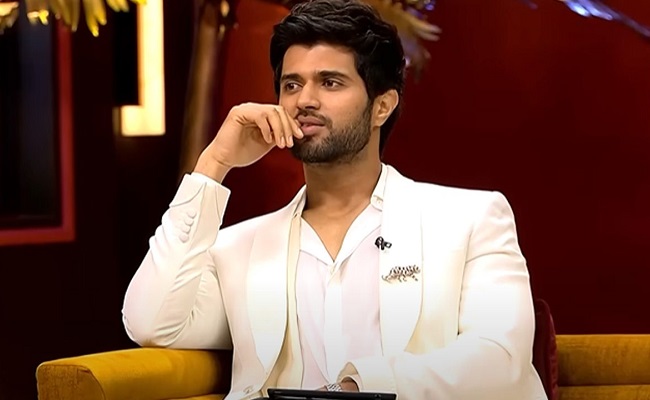 Vijaya Devarakonda is not any star kid. He hails from a normal middle class conventional family in Hyderabad. He studied in Satya Sai School as far as I heard.
He was humble, balanced and lovable in his first 'Yevade Subrahmanyam'. Then he came up with 'Pelli Choopulu', another balanced film with a balanced character. As the film won many accolades he got semi stardom.
Things changed in his life with the arrival of 'Arjun Reddy'. He made some controversial speeches during the film's promotion events as well. He called senior politician VH Hanumanta Rao a Tatayya for criticising the film. Vijay started nurturing his rebel kind of image to hook his fans to him. In a way, Arjun Reddy continued to live in him. Even then he was entertaining though a bit controversial.
He made his own destiny and grew big by the virtue of his natural talent and hard work. Everything is fine till here.
But in the name of spreading the horizon of his popularity he is stooping down to new depths. He is now emerging as a national actor with 'Liger' to stand on par with Yash and Allu Arjun.
Before the content in the film speaks, the publicity around him is making a big noise. Karan Johar became the source of this so-called publicity with disgusting aspects glued to Vijay.
Vijay should be shrewd and sane enough in delivering certain lines during the interview.
When Karan Johar opened the talk about s** in cars, Vijay Devarakonda answered that he did it.
Karan responded to that with- "But aren't they uncomfortable? I haven't done anything in a car." To this Vijay answered with a wink: "Desperate times."
This is more disgusting than entertaining? I don't know about the male population, but this is certainly a bitter thing to hear from a mainstream hero. Recently, even the car s** incident that turned out to be a rape case in Jubilee Hills stikes the mind in this situation.
Actors like Vijay Devarakonda should mind what they are saying in front of the cameras. Majority of his fans are teens. Don't they get inspired by this nonsense talk? Unknowingly, in the guise of catching the media attention, Vijay Devarakonda is getting into anti social talk. It is time for him to hold his tongue tight.
Samyukta Dantuluri