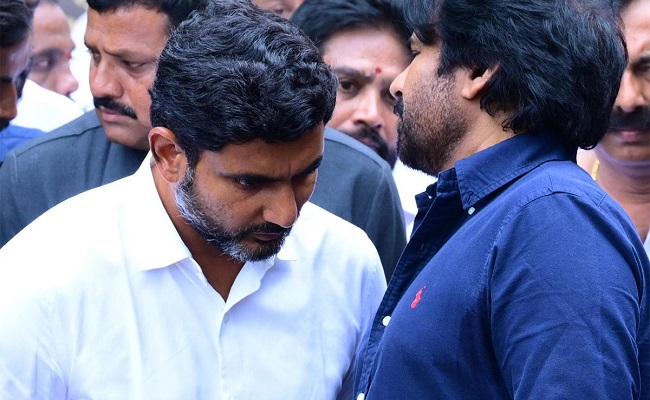 The prospects for TDP and its emerging young leadership, after the arrest of Chandrababu Naidu appear quite bleak.
If Lokesh had been arrested and Chandrababu were not in custody, he could have had a significant impact on the situation. He might have exerted pressure on the YSRCP through various means, such as engaging with the public, organizing public meetings, and maintaining a continuous media presence.
Regrettably, Lokesh doesn't possess the same adeptness as his father when it comes to handling people and complex situations.
His trip to Delhi to garner support from national media and leaders yielded no results, and he continues to stay in Delhi to avoid potential arrest.
However, this behavior doesn't align with the qualities expected of a courageous young politician.
While we may not wish to dwell on a Lokesh's shortcomings, the actions of Chandrababu Naidu's "datta putrudu" raise questions.
Pawan Kalyan, often referred to as the "datta putrudu," made a cameo appearance at Rajamundry Central Jail and announced the alliance of Janasena with TDP, but then vanished from the scene.
Shouldn't he have stood by Lokesh in Delhi as a pillar of support?
Alternatively, shouldn't he have taken the lead in the state, supporting TDP and its leadership with his alliance?
Currently, he seems absent from the political landscape, leading many observers to speculate that he won't return until the next installment is credited to him and he receives the necessary script to perform.
Although this might sound like sarcasm, there is an undeniable element of truth in it.
Pawan Kalyan is conspicuously absent just when TDP needs his presence the most, especially following the announcement of their alliance. It is pity to see CBN still believing in Pawan Kalyan.
Usha Chowdhary