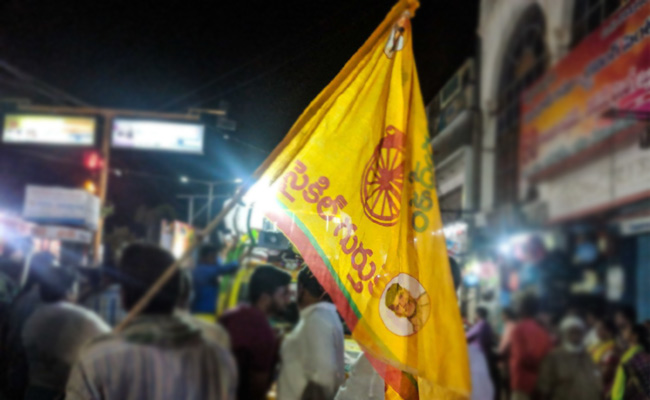 2024 general elections are just one and half years away. The ground reports and national surveys are saying that TDP is going to lose and YSRCP has a better edge to form the government again.
To counter those surveys Chandrababu Naidu is passing his time with Raghu Ramakrishnam Raju's survey in favor of TDP. But such surveys hardly pump in enthusiasm in the cadre and the sympathizers of TDP.
Then what should be done? Isn't there any other way for TDP to see light at the end of the tunnel?
Why not? There is a huge opportunity.
As Raghu Ramakrishnam Raju has already mentioned that anti incumbency is very strong in almost every corner of the state, he has a better chance to show light for TDP. All that he can do is to resign from his MP seat and YSRCP membership and join the TDP officially.
Then within six months the by-poll in Narasapuram becomes inevitable. If he can win the election, then it will shake the fort of YSRCP.
Let us see what all may happen with that victory.
- Jagan Mohan Reddy's cadre gets disturbed.
- It is needless to say that half of the cadre and strength may jump out from YSRCP to join TDP.
- The party workers in TDP get the morale boost, the sympathizers get enthusiasm and the voters get carried away by the wave of TDP.
- Whatever is written about TDP in its allied news dailies becomes Holy book and the people vote for cycle.
- The TDP can get back to power by dethroning YS Jagan Mohan Reddy.
So, to make all this happen, our RRR should step forward and sacrifice himself to fight. But can he do that? If the victory is definite for TDP as said by him, why can't he show that to the world practically and change the political mood in the state?
If Raju is hesitating to take this step, then at least Chandrababu should push him to do that. Come on Raghu Ramakrishnam Raju! Resign and Contest! You lose nothing but the chains of defeat.
Kiran Sharma