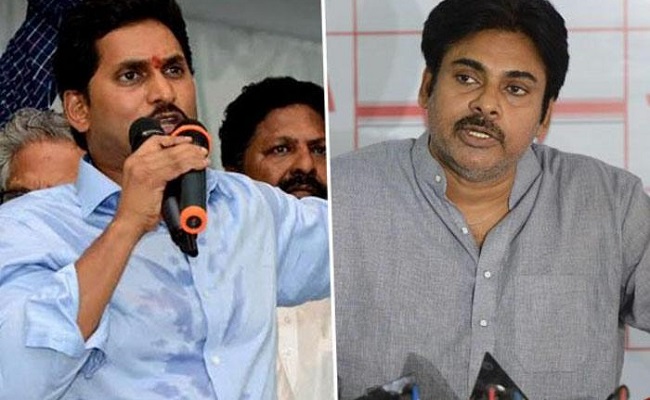 There used to be an opinion in the mid 1970s and 1980s that none can match Indira Gandhi in politics. So until all the opposition parties got united they couldn't dethrone Indira Gandhi. But within no time, the Janata government collapsed miserably due to internal weaknesses. Now Pawan Kalyan is advising such an attempt in AP politics.
His clarion call is for all the political parties to get united to pull down Jagan Mohan Reddy from the CM's chair.
But is Pawan Kalyan worthy of giving such a call? He has no strong individual political stand even now. He is branded as a part time politician and full time actor. Moreover he is also known as the yesman of Chandrababu Naidu in AP and an acting loyalist to BJP at the Center.
Though BJP is not taking him seriously, Chandrababu still expects something may work if he travels with Pawan Kalyan who couldn't even elect as an MLA from either of the constituencies he contested.
TDP is crippled now and it has no way out to come out from the suffocation of humiliation. Even the Kuppam is losing the hold of TDP which made Chandrababu cry.
Congress has vanished completely in the state of AP. No Congress leader is seen in the recent past who spoke out with a hope that Congress would revive again.
Prajashanti Party of KA Paul is another party in the state that contested in the last general elections.
The age old CPI and CPM are anyway there in existence but with no life.
So, Pawan Kalyan implies that the glass, the cycle, the flower, the hand, the helicopter and all other symbols in the state should get united to bulldoze the fan. But is this possible?
What is the contribution of all these parties in the state for the voters to consider them as an alternative to YSRCP?
Pawan Kalyan's contribution is nothing other than entertaining the media channels and his fans.
The bottom line is that Pawan Kalyan with his speech made Jagan Mohan Reddy a hero and omnipotent leader who cannot be dethroned without the unity of all the opposition parties in the state.
R. Ravi Teja