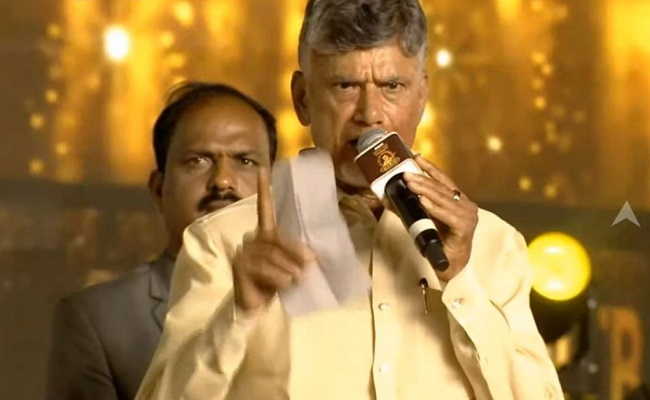 NTR Centenary was celebrated yesterday in Hyderabad's Kukatpally region in a big way. In fact, the celebrations have been happening in different places. In Vijayawada, Balakrishna and Chandrababu organized a similar event, but with only Rajnikanth as the Chief Guest. Now, in Hyderabad, they made sure to invite different actors and politicians from other parties in an attempt to make it a big gathering. But finally, what was the outcome?
It's evident that Chandrababu tried to project himself in the shadow of NTR's event again. Knowing that it gives a pure TDP color, CBN tried to camouflage it by inviting leaders from other parties like Bandaru Dattatreya of BJP, Sitaram Yechuri of the Communist Party, and others. If that is the case, then why was no BRS leader seen in the vicinity? It is known that KTR (Kalvakuntla Taraka Ramarao) was given the name inspired by NTR, according to the widely prevailing opinion. KCR was a fan of NTR, as per sources! Then why didn't he attend? Was he invited in the first place?
It was NTR's Centenary event happening in Hyderabad. As an actor, he was loved by all. Even as a politician, he could be honored by KCR, considering he started his political career from TDP. But that didn't happen at all. Every sensible politician understood it as a political stunt by CBN to gain mileage in the Telangana region.
Many sensible heroes also kept themselves away, sensing the selfish ideology of Chandrababu. Those who attended were mostly obligated by Balakrishna. Although Pawan Kalyan failed to attend, Ram Charan balanced the group with his presence.
The absence of Jr NTR and Kalyan Ram raised a lot of criticism. Why would they skip the event if they didn't sense something fishy?
On the whole, the NTR Centenary event ended up being more of a mini-Mahanadu than anything else. The event neither touched the hearts of NTR fans nor helped increase the mileage of CBN. It was a failure in both respects.
In fact, netizens from a section started ridiculing CBN organizing NTR's Centenary, saying that it would had been the same had Brutus celebrated the Centenary of Julius Caesar!
Shanmukharam Pemmasani