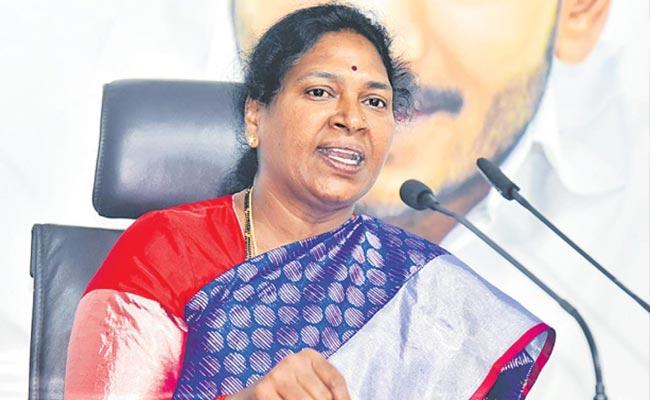 The politics in Andhra Pradesh turned like a filth. No party is an exception to this including YSRCP, TDP or Janasena. The criticism is losing decency.
It is a shame to see politicians stooping to make highly objectionable comments which are even hard to believe.
The latest mindless comments made by Pothula Suneetha on Chandrababu and his family members speak about the worst state of politics.
Suneetha brought in Lokesh's mother and wife into the picture and commented that the entire family is addicted to alcohol.
She stated that Nara Chandrababu is actually Sara Chandrababu. She didn't stop there but said that he is actually doing a cheap liquor business in the guise of doing milk business.
This nonsense didn't stop here. She said that Chandrababu's wife Bhuvaneshwari and Lokesh's wife Brahmani are earning Rs 1 Cr per day on liquor sales. She also gave a nomenclature to B-3 brands as Bhuvaneshvari, Brahmani and Babu.
The height of vulgarity is when she said that Lokesh cannot sleep without wine and women.
This war of filthy criticism will not stop here. Now the TDP women folks also give counters equally. The public is not getting amused with all this but frustrated.
The party heads should condemn these mindless leaders before people lose any positive vibe on the party.
The leaders like Pothula Suneetha may be feeling that they can get into the good books of Jagan Mohan Reddy by this kind of talk.
If that is the case, it is the responsibility of Jagan Mohan Reddy himself to correct such leaders. In the first place there is no desperate political necessity for YSRCP leaders to stoop to this level on par with TDP folks.
Samyukta Dantuluri