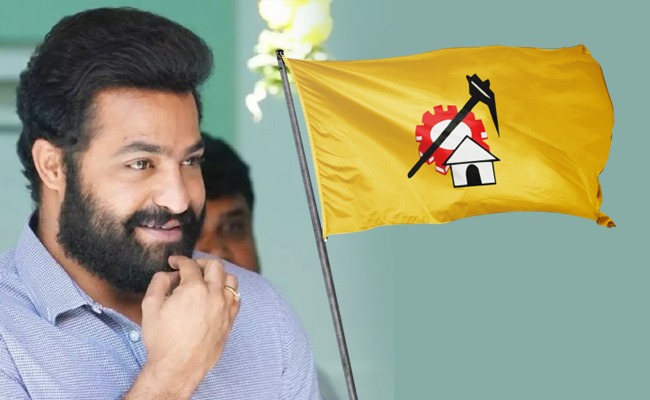 The absence of Junior NTR at the NTR Centenary event has become a topic of discussion, and like everyone else, Junior NTR likely had his own calculations and considerations.
Had Junior NTR attended the event, he would have inevitably been utilized for the party's political campaign as well, by obligating him. If he actively campaigned, and the party emerged victorious, Chandrababu Naidu would become the Chief Minister, thereby strengthening the political future of Lokesh.
However, in the event of defeat, there would be significant demand for a change in leadership, putting pressure on Junior NTR to hold the handle of TDP's Cycle.
It is worth noting that Junior NTR's images have already been prominently displayed by TDP party members during CBN's public meetings, and slogans hailing Junior NTR have been heard in various occasions. This has led to speculation that Junior NTR may believe that if the TDP loses in the 2024 elections, the party may eventually come under his leadership. However, the situation is not so straightforward.
Some may assume that Junior NTR could potentially backstab CBN at right time, as an act of revenge in support of his grandfather. However, CBN is a shrewd politician who has utilized three generations of a single family for his own growth and power.
He even kept his own brother Nara Ramamurthy Naidu away from the scene of politics. CBN's political acumen and strategies should not be underestimated. Time and tide should come in favor of Jr NTR to make a mark on AP politics, as mere image as a film hero and the so called fan following hardly helps.
We have seen how Chiranjeevi toppled after becoming a politician, we are seeing how Pawan is struggling with his party, we have also seen how Rajnikanth stepped back from political decisions. Indeed, their story is different. There has been no revenge drama!
Usha Chowdhary