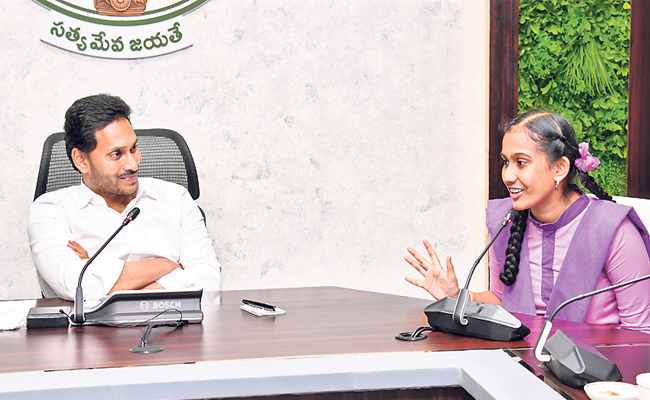 Meghana is the student from a government school in Bendapudi Village of Kakinada District who shot to fame along with her friends by speaking English in the American accent after undergoing the Language Improvement Program in her school.
Since the beginning the opposition party wing has been burning with envy for seeing the words of high praise by the people in Andhra Pradesh and Telangana for the kind of encouragement given by the AP CM towards this kind of education system. The students also praised CM Jagan for the kind of facilities they have in the school.
The envy has come to light in the form of trolling her by stating that she has failed in two subjects in the Annual Examinations. The girl was upset and got shocked looking at the negative trolling on her with regard to her accent and the fake result fabricated by the miscreants.
Meghana has shown her marks' list to the media where she scored 478 out of 600 and passed in first class.
Now the yellow gang must be keeping their heads somewhere.
The girls like Meghana are from poor financial background but excelling in their education by the virtue of their commitment, zeal, perseverance and enthusiasm. Instead of encouraging them, the TDP media and the social media wing have stooped down to this level of cruelty on this minor girl.
Politicising everything in the state has become the religion of these yellow riffraffs. They don't know what to politicize. Anything can be tolerated to an extent but this is highly condemnable. They should open their eyes and learn to behave like human beings in this society.
Samyuktha Dantuluri