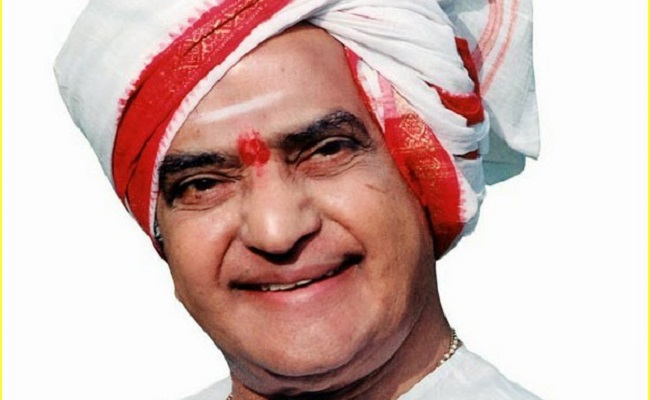 In the ongoing NTR university name change, everyone has taken either a pro or opposing stand. Most of the NTR supporters have gone overboard in expressing their unhappiness and dissatisfaction in the name change process.
However, this is not the first time such incidents have happened. NTR was not a freedom fighter or an uplifter of Telugu community like Potti Sreeramulu who sacrificed his life for separate Telugu state. He was not like Kakani Venkata Ratnam, known as Ukku Kakani for his fight towards the Vizag Steel Plant .
NTR who formed TDP took up the "Telugu pride" agenda at the age of sixty. However, a legendary figure and freedom fighter like Kakani Venkata Ratnam who also hails from the same community, was a minister during congress regime and worked for upliftment of agriculture and dairy sector. He helped to construct many schools and hospitals in the coastal belt of Andhra Pradesh. He worked selflessly without bringing his family into politics.
The NTR university is first named after Kakani Venkatartnam as per the video link: (Check the video from 2.15 min to 5.00 min about Kakani Venkata Ratnam).
But later it was changed by NTR himself without giving respect to Kakani Venkata Ratnam. So injustice was done to the legendary personality who pioneered the Jai Andhra movement and lost his life out of grief upon hearing the news of death of students during agitation. Whereas NTR died of a heart attack due to the fear and grief of losing power being insulted and distanced by his own family.
As the common media perception , the NTR era of uplifting his community is finished and CBN has moved along only with moneybags later on. Not all kammas feel NTR as their saviour. There are Hero Krishna fans who staunchly oppose NTR. Then there are Nageswararao fans and others who don't support NTR.
Coming to the point, during the TDP regime, Kakani Venkata Ratnam statue was removed from Benz circle citing construction of a flyover. They promised to name the airport, capital, buildings after him but only kept on removing the memories of the legendary personality one after another.
The ruling party in AP also needs to target Nandamuri and Nara families, TDP supporters, instead of distancing the entire Kamma clan. In the ongoing tussle, the YS Jagan govt can turn intellectuals and young entrepreneurs to his side instead of witch-hunting all kammas together. By doing this, instead of damaging the TDP and its bosses, he is only cornering innocent Kammas who have no say or benefit from TDP.
It is high time, the TDP and its media stop showcasing NTR as a saviour of Telugu pride or for that matter even the community pride. He can be one amongst the achievers only and cannot overtake the likes of Kakani Venkata Ratnam or Mulpuri Harishchandraprasad or Yalavarthi Nayudamma and other doyens from the same community who contributed selflessly to the society.
Kakani Venkata Ratnam Followers