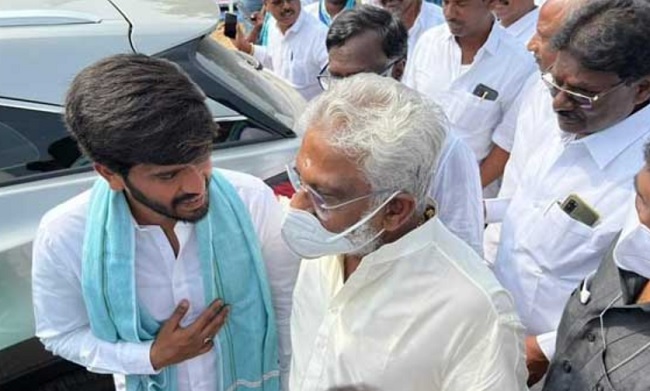 In a surprising development, senior YSR Congress party leader and chairman of Tirumala Tirupati Devasthanams (TTD) trust board chairman Y V Subba Reddy appeared in the ongoing padayatra of Y S Sharmila, president of YSR Telangana Party at Kothaguda village near Maheshwaram on Sunday.
Subba Reddy, who is also uncle of Sharmila, flew down to Hyderabad from Vijayawada in the morning and drove straight to Kothaguda, where he met Sharmila. Both of them huddled into a confidential meeting which lasted over an hour.
Subba Reddy also had a talk with YSRTP leaders like Konda Raghava Reddy, Tudi Devender Reddy, V Rajagopal and Muztaba Ahmed.
It is not immediately known what exactly transpired between Subba Reddy and Sharmila, but it led to the speculation that he had come on the directions of her brother and Andhra Pradesh chief minister Y S Jagan Mohan Reddy.
He is also expected to meet Jagan's mother Y S Vijayalakshmi at Lotus Pond in Hyderabad later in the evening.
It is learnt Subba Reddy brought a specific message from Jagan to Sharmila and Vijayamma but there is no clarity as to what the message could be.
There is a talk that Jagan wants Sharmila not to continue her padayatra as it would be an exercise in futility. Maybe, Jagan thought of compromising with sister and offering her a good position in the party.
There is also another talk that Subba Reddy might have made a courtesy visit to Sharmila to extend his blessings to her. But one wonders whether Subba Reddy would meet Sharmila without Jagan's knowledge. So, everything is mysterious about his visit!