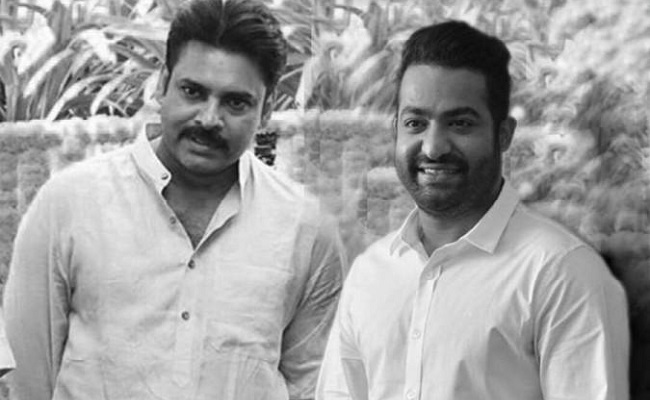 The controversy over restrictions on cinema theatres in Andhra Pradesh in the form of low ticket rates and denial of additional shows for power star Pawan Kalyan's latest film Bheemla Nayak has led to a war of words between the Telugu Desam Party and the YSR Congress party.
Pawan Kalyan has not made any comments against the Jagan Mohan Reddy government.
Even the Bhararatiya Janata Party leaders, barring a subtle comment from G V L Narasimha Rao, have not made any statements on the Bheemla Nayak controversy.
But the TDP leaders, right from party president N Chandrababu Naidu to his son Nara Lokesh to many other seniors, had gone on tweeting spree to attack the Jagan government for particularly targeting Pawan Kalyan's film only out of vengeance.
The YSRC leaders initially put up a poor defence on the restrictions on theatres screening Bheemla Nayak and made critical comments against Pawan Kalyan and his fans, who protested against the government across the state.
But when the TDP leaders have started making it a big political issue, the YSRC leaders launched a counter attack.
Interestingly, they are invoking the name of Jr N T Rama Rao to target Pawan Kalyan's films, obviously to irritate the TDP leaders.
The other day, state cinematography minister Perni Nani wondered whether the TDP leaders, who are tweeting about Pawan Kalyan and his films, had ever made similar comments about Jr NTR's films.
On Tuesday, too, assembly speaker Tammineni Sitaram, too, lashed out at Naidu and Lokesh for showing unusual affection on Pawan Kalyan and his films.
"These father and son had never made any comments in the past in support of Jr NTR, who struggled a lot for the TDP," he pointed out.
He alleged that Naidu and Lokesh would go to any extent to gain political mileage.
"If cinema is good, it will run to full houses irrespective of the ticket rates – whether it was Akhanda or D J Tillu," he pointed out.
Similar comments were made by YSRC MLA Gudivada Amarnath, who declared Pawan Kalyan a big zero, despite five star ratings given by Naidu and Lokesh.
He also pointed out that the TDP leaders never tweeted on any cinema in the past, including that of Jr NTR. Now, they are tweeting in support of Pawan only for the sake of alliance with the Jana Sena, he criticised.