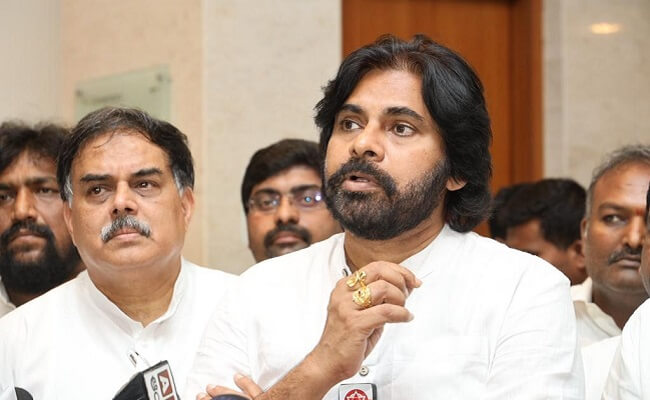 The meeting between power star and Jana Sena Party chief Pawan Kalyan with Prime Minister Narendra Modi in Visakhapatnam on Friday night appears to have gone on well, as was evident from the actor's reaction before the media after the meeting.
Pawan, whose relations with the Bharatiya Janata Party have clearly strained over the last few weeks, had a hearty talk with the Prime Minister for nearly 30 minutes.
He is learnt to have explained the latest developments in the state and why there was a need to fight against the YSR Congress party government led by chief minister Y S Jagan Mohan Reddy.
Apparently, Modi had come to Visakhapatnam after doing a lot of home work about the state politics and that is why, he wanted to have a discussion with Pawan Kalyan.
When the actor was explaining about how the political rivals of YSRC are being subject to witch-hunt, Modi is learnt to have said: "I know everything."
Pawan Kalyan, however, reportedly told him the need for an opposition unity to prevent splitting of votes.
Modi did not respond to the same but reportedly assured that Pawan Kalyan would have all the support from the BJP in his fight against the Jagan government on issues.
"He enquired about various issues pertaining to the state and the present political situation. I shared with him whatever information I had. He wished that Andhra Pradesh should prosper on all fronts and people remain united," he told reporters later.
Interestingly, Pawan said the meeting with Modi had taken place in peculiar circumstances, but did not elaborate on the same. It appears the meeting actually caught the actor in a dilemma, though he was happy with Modi's assurances.
It is not clear whether Modi is okay with an alliance among the BJP, TDP and Jana Sena or only BJP-Jana Sena. So, it was a peculiar situation for Pawan.
He has to decide between the BJP and TDP, if Modi had given him a clear indication that the TDP doesn't fit into their alliance.