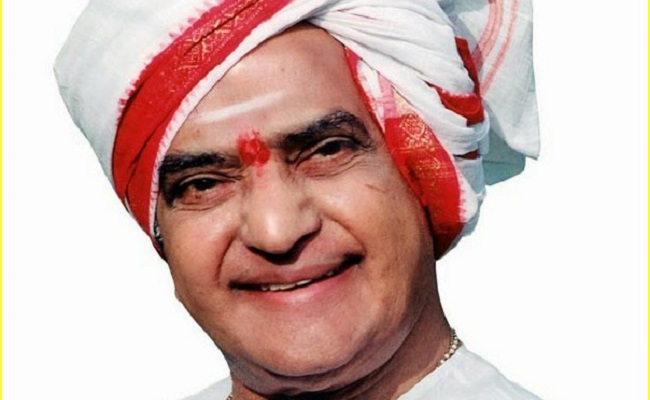 The ruling Bharat Rashtra Samithi (BRS) leaders seem to be on a spree to set up statues of TDP founder and former Andhra Pradesh Chief Minister, late N.T. Rama Rao.
This trend appears to be more prevalent in the constituencies represented by BRS MLAs in Hyderabad.
Even in the erstwhile Khammam district, where Seemandhra voters, especially those from the Kamma community, hold sway in elections, an attempt was made by BRS leader and minister Puvvada Ajay Kumar to install the tallest NTR statue in Khammam recently.
However, the NTR statue in Khammam landed in controversy as it was designed in the form of Lord Krishna, which was strongly opposed by certain quarters, leading to petitions being filed in the High Court.
Due to legal issues, the unveiling of the statue in Khammam has been postponed.
Now, this trend has caught on in Hyderabad. On Wednesday (today), BRS MLA from Quthbullapur constituency, K.P. Vivekanand, unveiled an NTR statue in his constituency. Needless to say, there is a significant chunk of Seemandhra voters, especially from the Kamma community, in his constituency.
This statue was unveiled by none other than Telangana Legislative Assembly speaker Pocharam Srinivas Reddy, who hails from the erstwhile Nizamabad district.
Even Nizamabad district has a substantial number of Seemandhra voters and Kamma voters. Pocharam utilized the occasion to please them by showering praise on NTR, referring to him as a 'revolutionary leader' and a 'social reformer'.
Pocharam mentioned that many present-day leaders in Andhra Pradesh and Telangana owe their political sustenance and success to NTR's influence.
A few more BRS MLAs in Hyderabad are in the process of setting up NTR statues and plan to unveil them before the Assembly polls scheduled for December this year.
However, the question being raised in political circles is whether setting up NTR statues will yield dividends for BRS in the Assembly polls and whether it will help the party garner the support of Seemandhra voters, especially Kamma voters.