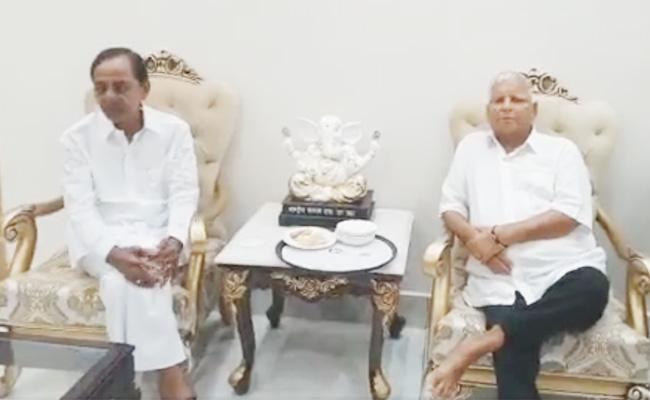 Telangana Rashtra Samithi president and chief minister K Chandrasekhar Rao, who has been avoiding Janata Dal (U) president and Bihar chief minister Nitish Kumar till recently, has now suddenly started showering praises on him.
Reason is obvious: Nitish has come out of the Bharatiya Janata Party-led National Democratic Alliance and joined hands with Rashtriya Janata Dal led by former chief minister Laloo Prasad Yadav.
Since Nitish has started criticising Narendra Modi government at the Centre, he has become a friend for KCR. So, within a couple of weeks of Nitish forming the new government with the support of RJD, KCR rushed to Patna to announce that he would work with Nitish to form the anti-BJP front.
"We shall fight for BJP-Mukth Bharat and Nitish is also striving for the same. We shall make all out efforts to bring all anti-BJP forces together. Who will lead this front will be decided at the time of elections," KCR said.
Nitish also described KCR as a unique leader, who achieved statehood and made Telangana as a role model for other states.
So far so good. But the question is whether KCR will be willing to be part of the anti-BJP front in which the Congress party is a part. The Congress is already a part of Nitish's maha ghatbandhan (grand alliance) in Bihar and has got two cabinet berths in the Bihar cabinet.
In many other states, the Congress has been the alliance partner of the regional parties and they would not be willing to desert the Congress for the sake of KCR, as all said and done, the Congress still is a bigger force compared to many other regional parties.
If KCR thinks he can influence the other regional parties, he will be mistaken. He won't have any other choice but to accept the Congress, if he really wants BJP-Mukth Bharat!