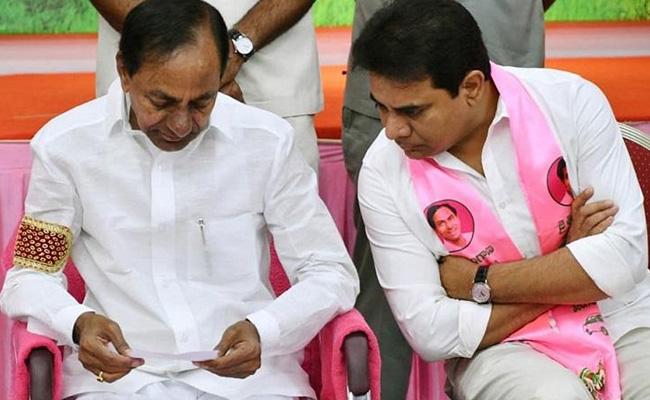 For the past two days, speculations about Telangana Rashtra Samithi working president and state IT minister being anointed as the next chief minister of Telangana very soon have started gaining ground once again.
Though there is nothing new in these speculations, the comments made by state health minister Eatala Rajender in an interview to a television channel, that too a pro-TRS channel, that KTR might become the next chief minister as he had been taking all decisions in the absence of his father, have strengthened the latest rumours.
Another minister also confirmed to a news agency that KTR might take over as the chief minister mostly in February.
"They are discussing within their family. Many changes will take place in the cabinet too," the minister told the agency.
This has led to the talk as to why KCR is in a hurry to make his son as the chief minister or whether there is any pressure from KTR and other family members on KCR to step down in favour of the son.
There could be many reasons for this decision of KCR to anoint his son as his successor.
First, according to sources, intelligence reports have reportedly hinted to KCR that the TRS might not return to power in the next elections, if the present system continues, and at the most, it would get 22-25 seats in the 119-member assembly.
So, the chances of KTR becoming the chief minister after the next elections will be bleak. He will have to wait for another five years, if not more. By then, who knows what the political situation would be in the state and many players might emerge in the party and outside by then.
If KCR want to see his son as the chief minister, he has to make him now. Analysts recall how Rahul Gandhi had missed the opportunity of becoming the Prime Minister of the country.
"Had Sonia made Rahul as the PM in 2009, he would have grown as a big leader by now and a force to counter Modi. But now, there are hardly any chances. The same thing might happen to KTR, if he cannot become PM now," an analyst said.
If the TRS loses power in the next elections, KCR will have to sit in the opposition benches in the assembly which he doesn't want to do, especially since he wants to gracefully retire as a leader who brought Telangana state.
"If KTR becomes the CM now, he can at least give a young look to the party and he will try hard to improve the TRS chances of retaining power. It is an opportunity to prove his talent. Even he can't bring the TRS to power for the third time, he would have the satisfaction of being the CM at least for a couple of years," the analyst argued.
Click Here for Latest Direct-to-OTT Releases (List Updates Daily)