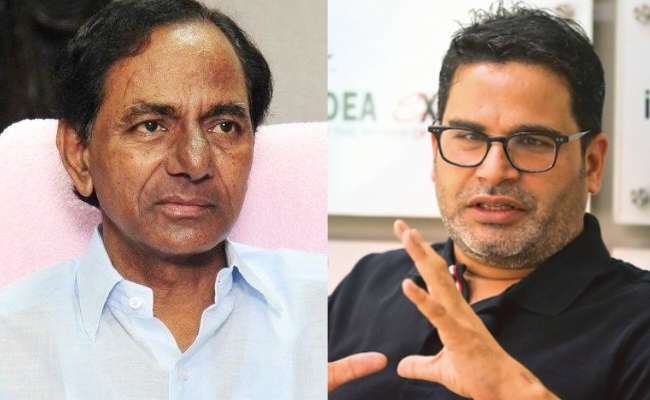 It has been reported in these columns a few days ago that Indian Political Action Committee (I-PAC) promoted by popular political strategist Prashant Kishor is not happy with working for Telangana Rashtra Samithi headed by chief minister K Chandrasekhar Rao.
This has been more or less confirmed by leading Telugu daily Andhra Jyothy and a couple of other channels on Tuesday.
Apparently, Prashant was upset with the style of functioning of KCR. His team has not been getting any cooperation from the TRS leadership. There have been no interactions and strategy discussions between the top brass of the TRS and the I-PAC team, as a result of which the I-PAC has little work to do in Telangana.
The organisation, which has recruited around 300 employees exclusively to work for the TRS in the next elections, is understood to have shifted more than 200 members to the neighbouring Andhra Pradesh, where it is working for YSR Congress party. And the remaining have been kept as stand-by in Hyderabad.
The latest reports said the I-PAC team, which had gone to Munugode a few days back to conduct a survey on the prospects of the TRS in the ensuing by-elections, returned without completing its task, as the TRS leadership was not interested in the same.
Highly placed sources said Prashant Kishor, who had met KCR after trying for an appointment for several days, explained to him that the TRS was a losing horse and it might not get more than 20-25 assembly seats in the next assembly elections.
"This has obviously angered KCR, who doesn't want anybody talking negative about him or his rule or his style of functioning. He dismissed Prashant Kishor's survey report as trash and asked him not to show his face again," a confidential source in the TRS said.
The reports also said Prashant Kishor has advised KCR not to venture into national politics, because he won't click.
"The chief minister's national party plans are not in sync with KCR's plans to return to power in Telangana for a third time," sources said, adding that his observations also did not go down well with KCR.
However, the TRS has not terminated its contract with the I-PAC to which it has already paid huge money.
"So, the contract will continue till the next elections, but the role of I-PAC will be limited to social media monitoring and other such activities. It will have no say in the identification of candidates or working out field-level strategies for the party," sources said.