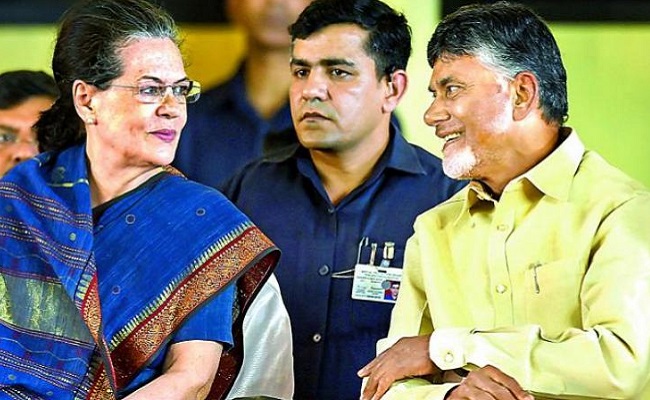 Known for his use-and-throw attitude, Telugu Desam Party president and former Andhra Pradesh chief minister N Chandrababu Naidu has dumped even Congress party, with which he had allied before the last general elections in 2019.
After the TDP came out of the National Democratic Alliance in April 2018, it had been sitting in opposition at the national level. It even moved a no-confidence motion against the Narendra Modi government with the support of the Congress party.
Soon after that, Naidu joined hands with the Congress party and tried to stitch all anti-BJP parties together to form a grand alliance.
He shared the dais with then Congress president Rahul Gandhi in several public meetings during the elections, making a vigorous attack on Modi.
On the last day of the electioneering on May 19, Naidu met Sonia Gandhi, too, and discussed the possibility of a meeting of all opposition parties in the post-results scenario. But it did not happen, as Modi returned to power with a bang and opposition faced a humiliating defeat.
After that, Naidu virtually dumped the Congress party and had never made any attempt to meet or greet Sonia or Rahul.
Subsequently, the TDP chief took a U-turn and started praising Narendra Modi, his leadership and his decisions. He has been regularly greeting him and writing letters to him, though there was no reciprocation from him.
Since the TDP is still being treated as an opposition party, everybody expected that Naidu would attend the all-party meeting convened by Sonia Gandhi over video-conference method on Friday to discuss the latest economic stimulus package announced by Modi to overcome the financial crisis due to lockdown.
But Naidu played truant, while leaders of 22 other parties which he had tried to bring together to from Grand Alliance, attended the video-conference.
This clearly exposed that the TDP chief doesn't want to be part of the anti-Modi team and given a chance, he wants to get back into the NDA!
CLICK HERE!! For the In Depth Updates on all the OTT Content