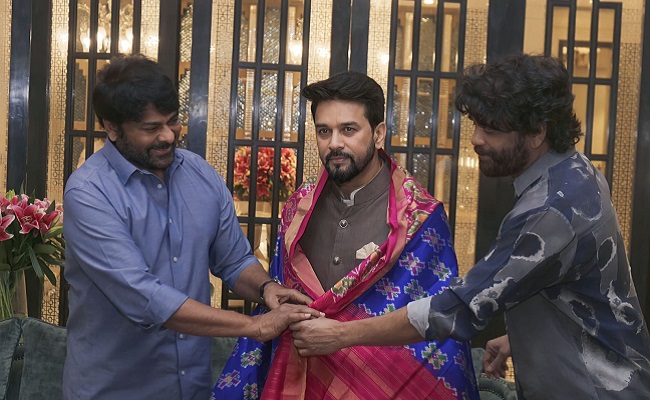 The sudden and surprising visit of Union information and broadcasting minister Anurag Thakur to the residence of megastar Chiranjeevi on Sunday evening has raised many an eyebrow.
Though it was projected to be just a courtesy call, it was rather unusual for the Union minister to come all the way to Chiranjeevi's residence in Hyderabad.
Secondly, Thakur was also accompanied by another Tollywood star Nagarjuna to Chiranjeevi's residence. That fuelled more speculations about the visit.
Chiranjeevi tweeted that the meeting was to discuss about the Indian film industry.
"Thank you dear Sri @ianuragthakur for making time to drop by at my place on your visit to Hyderabad yesterday. Loved the delightful discussion we had along with my brother @iamnagarjuna about the Indian Film Industry and the rapid strides it is making," he tweeted.
Yet, the rumours refused to die down. The question was why a Union minister should come down to Hyderabad only to discuss the issues of film industry with him.
And why was Nagarjuna involved in it? What about other bigwigs of film industry? What exactly was the topic of the discussion?
Amidst all these doubts, there are speculations that Thakur might have met Chiranjeevi on a political mission.
Though the megastar made it clear many times that he won't enter into politics again, the Centre might be considering using the services of Chiranjeevi for a major public campaign.
"Maybe, the campaign involves multiple stars of film industry and as part of that the Union minister might have contacted Chiranjeevi," sources said.