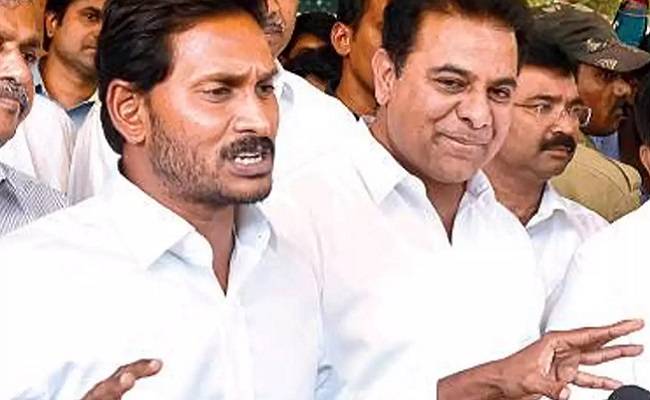 An interesting discussion has been going on in the political and media circles in Telangana and Andhra Pradesh over the unusual silence of brothers when their sisters are facing troubles due to political witch-hunt.
The brothers in question are: Bharat Rashtra Samithi (BRS) working president K T Rama Rao in Telangana and YSR Congress party president Y S Jagan Mohan Reddy in Andhra Pradesh. The sisters in troubles, obviously, are Kalvakuntla Kavitha and Y S Sharmila respectively.
There has not been a single tweet, let alone a statement from KTR when the Enforcement Directorate mentioned his MLC-sister Kavitha's name in the remand report of one of the accused in the Delhi liquor policy scam, tarnishing her political image.
Even when the Central Bureau of Investigation issued her a notice for examining her as a witness in the Delhi liquor case, KTR did not respond. She had to take the help of her father and chief minister K Chandrasekhar Rao to handle the issue.
Same has happened in the case of Sharmila. When the TRS (now BRS) activists attacked her convoy, set fire to her caravan on November 28 and abused her in filthy language, there was no comment from Jagan.
The denial of permission to her padayatra and the way the Hyderabad police towed away her car even when she was inside evoked sharp criticism from everybody, but not from Jagan. Only YSRC general secretary Sajjala Ramakrishna Reddy said it was unfortunate development but did not comment beyond that.
Like KCR came to the rescue of Kavitha, Jagan's mother Vijayamma came to the support of her daughter Sharmila and staged a protest. She put under a virtual house arrest.
Even on Friday, when Sharmila took up fast unto death in protest against the denial of permission for her padayatra and arrest of her followers, she did not get any statement from her brother.
One wonders whether the silence of the brothers was strategic or they really do not have any sympathy towards their sisters.
"Obviously, political interests have become paramount compared to sibling relations," a political observer commented.