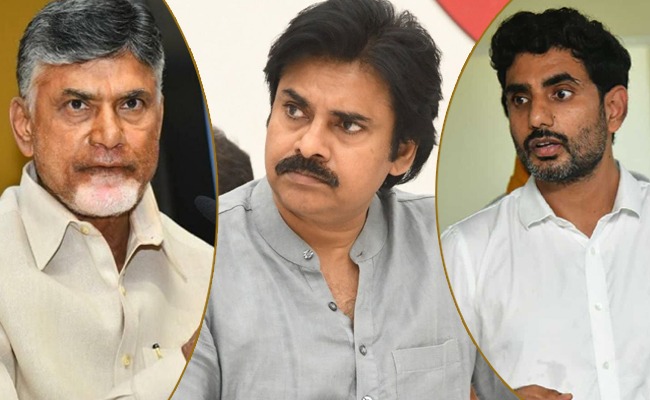 TDP chief N Chandrababu Naidu had been seriously working to restore alliance with BJP and Jana Sena. Even if the BJP refuses for a patch-up, Naidu is strongly lobbying for a tie-up with Jana Sena.
It is everyone's knowledge that Chandrababu Naidu is mounting pressure on Jana Sena chief Pawan Kalyan for electoral tie-up ahead of the 2024 general elections.
The ranks and file of the two parties have clear information on this proposed alliance and they have worked together in the local body elections right from Gram Panchayat polls to the municipal polls, held early this year.
Naidu strongly believes that he cannot beat Jagan Mohan Reddy all alone and for him and the community that works for his party are taking the 2024 election as a do or die matter.
However, sources say that Naidu's son Nara Lokesh, who is playing a key role in the party these days, is firmly opposing the alliance with Pawan Kalyan.
According to the sources, Lokesh had already told his father that TDP should not have alliance with Pawan, whom Lokesh termed as unpredictable and an unwanted baggage.
In fact, YS Jagan Mohan Reddy had expressed the same feeling and rejections when some of his party leaders suggested alliance with Jana Sena before 2019 elections.
Now, Lokesh too is said to have expressed the same reservations in having alliance with Pawan. However, it is also said that Lokesh had told his father to try hard for alliance with the BJP and ignore Pawan.
"No matter we are defeated (in 2024) again. But, it is not worth to have alliance with him," is what Lokesh is learned to have told his father.
Well, whose word prevails in TDP by the turn of 2024 elections is to be seen. It is also to be seen if BJP accepts a tie-up with the TDP without Jana Sena.