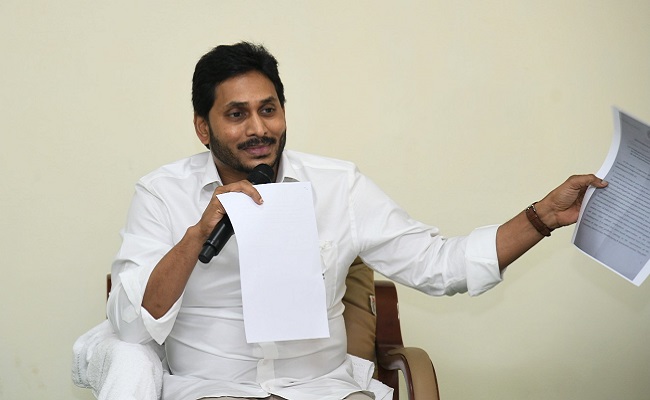 There seems to be more to the decision of the Y S Jagan Mohan Reddy government in Andhra Pradesh to repeal the controversial legislations on three capitals for the state and abolition of AP Capital Region Development Authority, than what meets the eye.
The state assembly passed the Andhra Pradesh Decentralization and Inclusive Development of all Regions Repeal Bill 2021 by voice vote.
The chief minister said a new and comprehensive legislation would be brought by strengthening the existing provisions and addressing various issues including legal matters by widening its scope to benefit the larger section of the society.
He said that it would incorporate all the answers of public queries, legal matters within the Bill.
He said the government's intention behind the three capitals idea had been twisted, distorted, and being misled amidst legal hurdles for the past two years.
The issue was dragged into legal tangle, propaganda with distortions and mudslinging trying to tell that some people will suffer in the process went on.
"This is the reason why we are repealing the Acts and come in with new legislation that would be more comprehensive and all inclusive," he said.
Sources, however, said the real intention behind the repeal of the two legislations could be different.
"While introducing the bills in the state assembly last year, the Jagan government would have definitely taken legal opinions and all the precautions. It would not have taken such an important decision hurriedly. The loopholes, if any, have not arisen all of a sudden," an analyst said.
As the arguments have actually begun in the state high court and the bench headed by the chief justice appeared to be extending support to the capital at Amaravati, the Jagan government has realised that it is going to lose the case in the high court very soon.
Even if the state government moves the Supreme Court later, there is no chance of winning the case, as Jagan knows chief justice of India N V Ramana will definitely strike down the case for the obvious reasons: The state government made certain allegations including insider trading against Justice Ramana in the past.
So, the chief minister might have thought it would be better to wait till Justice Ramana steps down from the CJI post sometime in August next year. By that time, the government would bring about a more comprehensive legislation on the three capitals, which would anyway be challenged in the high court.
"The delay has any way happened. There is no harm in waiting for one more year for the three capitals. In the meantime, the government can focus on creating infrastructure in Visakhapatnam," the analyst added.
Click Here for Latest Direct-to-OTT Releases (List Updates Daily)