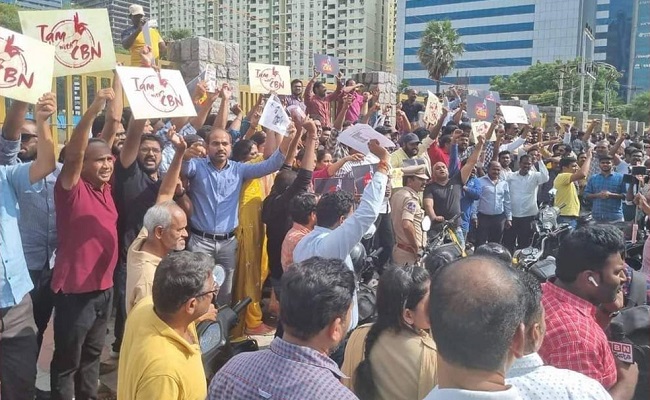 An attempt by the Telugu Desam Party to put up a big show of software employees of Hitec City and Madhapur areas of Hyderabad in support of arrested former chief minister N Chandrababu Naidu backfired on Thursday.
On Wednesday, a couple of hundred employees in the financial district area held a demonstration at Wipro Circle for some time, condemning the arrest of Naidu, who they said had developed the IT industry in Hyderabad.
It was a surprise development and the police could not take any action, as it ended as fast as it began. Moreover, it did not create much trouble for the traffic in the area.
Taking advantage of that, the TDP tried to organise a similar demonstration with a few hundred IT employees at Madhapur with placards and banners having #IAmWithBabu slogans during the lunch hour.
But this time, the police got a hint of it, as the TDP leaders informed the media well in advance about their plan. Since the employees did not take any prior permission from the police, they blocked them from taking out a rally and stage a demonstration.
While the police drove the IT employees back into their offices, they also took some of the TDP-affiliated employees into custody and let them off later, after giving them a warning.
There were reports on social media that some of the IT companies have even sacked some of their employees for staging a dharna in support of Naidu and issued notices to some others. But there was no confirmation.
A letter purportedly being written by some IT companies to their employees warning them against participating in political agitations went rounds on social media, but the letter had neither signature nor was there any name of the organisation on it.