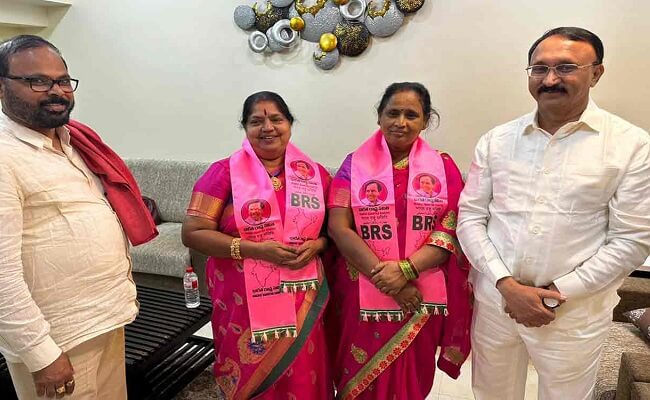 While political analysts are writing off the Bharat Rashtra Samithi's entry into Andhra Pradesh politics as a non-serious issue, the party continues to witness surprising defection of leaders from various parties.
On Friday, several senior leaders from various political parties have joined the party in the presence of BRS Andhra Pradesh president Thota Chandrasekhar, indicating a silent expansion of the party in that state.
Former Vijayawada Mayor and YSR Congress party leader Tadi Shankuntala, Andhra Pradesh Women Federation president Vemavarapu Lakshmi, Andhra Pradesh OBC Federation State general secretary P Malyadri and several others including minority community leaders, joined the BRS during a ceremony held at the party office near JKC College road in Guntur.
They said under the current circumstances, the development of Andhra Pradesh would be possible only through BRS and under the leadership of Telangana chief minister K Chandrasekhar Rao who developed Telangana into a role model State.
Speaking on the occasion, BRS AP chief Chandrasekhar said more leaders including sitting MLAs from different parties would be joining the party soon.
Shakuntala served as the Mayor of Vijayawada city during 2005-06. After working in the Congress party for several years, she joined the Telugu Desam Party. Since 2019, she has been working with the YSR Congress Party.