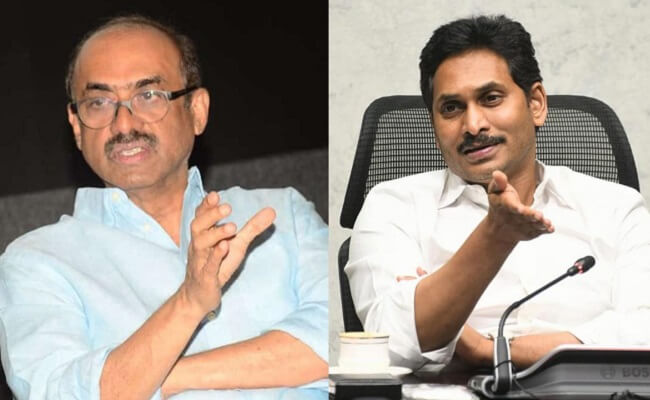 At last, prominent Telugu film producer and distributor Daggubati Suresh of Suresh Productions has agreed to sell five acres of prime land in Visakhapatnam to YSR Congress party president and Andhra Pradesh chief minister Y S Jagan Mohan Reddy.
Jagan has been nurturing a dream to build an own house for himself and his mother in Visakhapatnam. Ever since he took over as the chief minister of the state, he had been searching for a piece of land in a suitable location.
Though he had identified a few pieces of land, he did not like them much. The only place which he liked was the land allotted to Rama Naidu Studios closer to Rushikonda on the beach side.
Initially, the Jagan government made an attempt to take back the 25 acres of land allotted to Rama Naidu Studios during the Y S Rajasekhar Reddy regime, but Suresh stonewalled the attempts. He made it clear to the government that it was purely a personal property belonging to his family.
"The studio in Vizag is my father's dream. We bought the land from the government in those days by paying more than the market value. We have the right to do cinema or any other entertainment business in that land," he said.
At the same time, the prominent producer gave a hint that if necessary, he could sell part of the land.
"We don't have clashes with any government," Suresh Babu told Greatandhra.com once.
Subsequently, Jagan reportedly sent a message to Suresh to sell at least five acres of land out of 25 acres belonging to Rama Naidu Studios and even offered to pay a little more than the market rate. He had even sent some amount as advance to Suresh.
But Suresh was not interested and even returned the advance amount. In the meantime, Jagan looked for alternative sites, but he didn't like any of them. So, he reopened negotiations with Suresh again.
Sources said Suresh Babu finally agreed to sell five acres of land to Jagan and the deal has just been struck. It is learnt the chief minister has offered to pay more than the market value to Suresh Babu. The agreement is expected to be done shortly.
It is learnt Suresh Babu has ensured that the part of the total land belonging to Ramanaidu Studios, which is now being sold to Jagan, would not cause any disturbance to the existing Rama Naidu Studios and Jagan would ensure that there would be a separate road and entrance for his piece of land.
Sources said in this piece of land, Jagan will construct a house for himself, apart from his mother and sister Sharmila, as he had done in Bengaluru and Hyderabad.