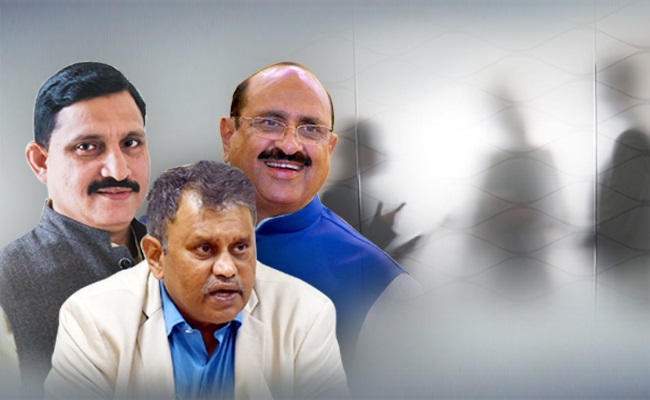 It looks like a strong caste lobby is solidly behind retired IAS officer Nimmagadda Ramesh Kumar in his fight against the Jagan Mohan Reddy government to retain his post as State Election Commissioner of Andhra Pradesh.
Former Union minister and Rajya Sabha member Y S Chowdary alias Sujana Chowdary, who had defected from the Telugu Desam Party to the Bharatiya Janata Party, is believed to be the man behind Nimmagadda Ramesh Kumar for obvious reasons.
Highly placed sources said Ramesh Kumar had a secret meeting with Sujana Chowdary at a star hotel in Banjara Hills on Saturday, apparently to discuss the strategy to be adopted in the wake of the latest Supreme Court decision not to grant stay on the state high court's order on his reinstatement as the SEC.
Former Andhra Pradesh health minister and BJP leader Kamineni Srinivas, who had filed the petition, was also present during the meeting, which reportedly went on for nearly three hours.
Apparently, they advised Nimmagadda to file a contempt petition in the high court against the Jagan government.
Though former TDP minister and senior leader Vadde Sobhanadreeshwar Rao also filed the petition in the high court, he was not present at the meeting.
Needless to say, Sujana, Nimmagadda, Kamineni and Vadde – all belong to the same caste and has been nurturing enmity with Jagan Mohan Reddy government.