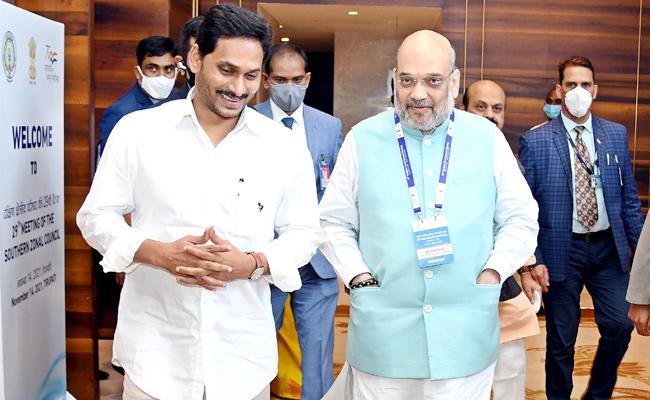 The Southern Zonal Council meeting held at Tirupati on Sunday amidst a lot of hype and hoopla ended up as a damp squib, as the participant states could get nothing out of the meeting despite their best efforts raise their issues.
Union home minister Amit Shah, who chaired the meeting, had not offered any solution to any state. All that he had done was to present his own agenda which he had brought from Delhi and left without giving any assurances.
In fact, Shah said the zonal council meetings were only a formality and they had no powers to take any decisions. He said the zonal councils were only advisory bodies in nature, but the Centre would try to solve many issues pertaining to the states raised by them in the council meetings.
The meeting was to commence at 3 pm, but it took nearly an hour for only introduction, welcoming the dignitaries and felicitating them. The actual session started at 4 pm and ended by 6.45 pm. Of this, Amit Shah himself spoke twice – in the beginning and at the conclusion.
All the states – represented by three chief ministers and others by the state representatives had hardly got 10-15 minutes to speak about their states' issues. Of them, only Andhra Pradesh chief minister Y S Jagan Mohan Reddy could make an effective speech.
However, there was no assurance from Shah on what the representatives of various states, including Jagan, spoke. He did not touch even a single aspect of the issues raised by them and instead gave a free advice: that the states have to resolve the disputes among them only through mutual negotiations.
The Union home minister went to speak about his own agenda – speeding up of second dose of vaccination, proposed amendments to Indian Penal Code, Criminal Procedure Code and Evidence Act, setting up of an independent institution of Director of Prosecutions, to speed up prosecutions, establishment of forensic science college in every state, narcotics control and effective implementation of POCSO.
Most of the time, he was only praising the Narendra Modi government and asking the states to cooperate with the Centre.
So, what did the states get from this meeting on which the Jagan government spent crores of rupees?