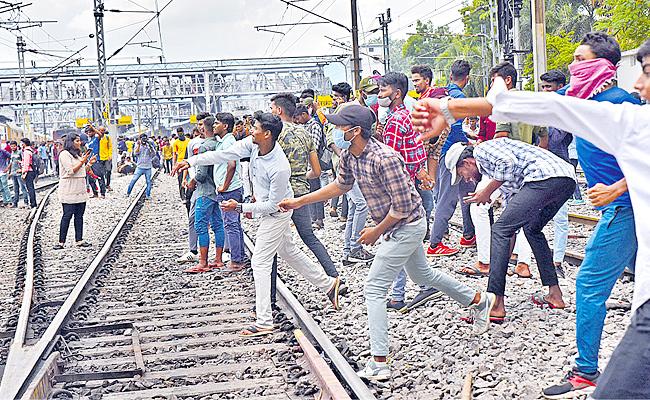 The Friday's vandalism and violence at Secunderabad railway station by army job aspirants in protest against the controversial Agnipath scheme has come as an excellent opportunity for the Telangana Rashtra Samithi, which has been waiting for one to counter the steep rise in the political graph of the Bharatiya Janata Party.
Though the agitations against Agnipath scheme have been going on for the last three days, the TRS did not bother to make any comment on it.
Even on Friday, when there was violence at Secunderabad railway station in which one candidate was killed in police firing, the TRS did not react much, except a tweet by TRS working president K T Rama Rao.
But by evening, the TRS sensed that there is an anger among the youth towards the scheme and it can be politically cashed in on against the BJP. Then started a series of press conferences, statements and social media postings began from the TRS leaders.
At around 11.30 pm, there was a statement from CMO, stating that chief minister K Chandrasekhar Rao expressed shock over the death of Rakesh from Warangal during the protests against the Centre's Agnipath scheme.
He extended condolences to the family of Rakesh who got killed during the firing by the railway police and announced Rs 25 lakh ex-gratia as well as a State government job to eligible person from his family.
On Saturday, too, the TRS political game started. The TRS leaders including MLAs and ministers made a beeline to Rakesh's house at Dabeerpet in Warangal district and attacked the BJP and Narendra Modi to create a maximum anti-BJP atmosphere in the district.
Interestingly, when the Congress leaders led by PCC chief A Revanth Reddy wanted to visit the village to call on the family of Rakesh, they were not allowed and arrested at Ghatkesar itself, obviously to deny any share to the Congress party in the political mileage.
Several TRS activists tried to burn the effigy of the Prime Minister during the procession and they also tried to attack the telecommunications office, a central government entity.
Several TRS leaders took part in the procession, but local Congress leaders were not allowed to join them.
The TRS also called for Warangal bandh which evoked good response. Educational institutions and commercial establishments remained closed in Warangal and Narsampet.