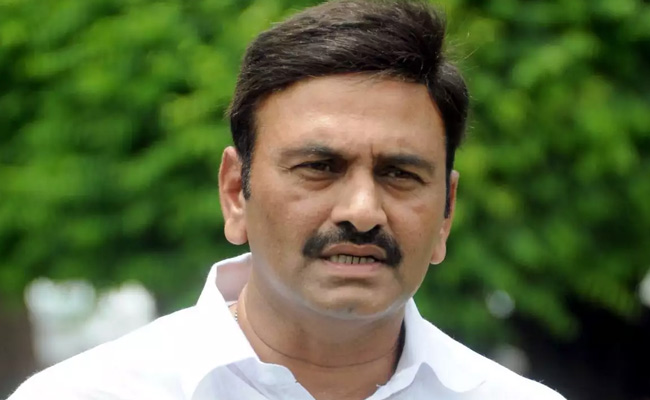 Ever since YSR Congress party's rebel parliament member from Narasapuram Kanumuru Raghu Ramakrishna Raju entered into confrontation with the party led by chief minister Y S Jagan Mohan Reddy, he has not been to visit his constituency.
In the last three years, Raju could not step into Andhra Pradesh, let alone his constituency, as the state police would take him into custody for questioning in connection with various cases pending against him. He also feels threat to his life from his enemies within the party.
Even though the MP is able to get away from being arrested by approaching the courts, he is not able to enter Andhra Pradesh at all. Even the state high court said he could be questioned by the AP CID authorities only in Hyderabad.
Since he has done little for the constituency in the last three years, the chances of Raju getting re-elected from Narasapuram in the next general elections are very bleak. So, he has to look for some other constituency or other district to become either an MP or an MLA.
According to some reports, Raju is contemplating shifting his base from Narasapuram to Kakinada parliamentary constituency to contest the next general elections. He is understood to have started preparations to this effect.
But it is not clear from which party he would contest. Raju is learnt to have sent feelers to the Telugu Desam Party that if he is given the MP ticket from Kakinada, he would be willing to join the party.
However, Naidu has already finalised the TDP candidate for Kakinada. Senior leader V Venkata Sivarama Raju, who contested the last Lok Sabha elections but lost to YSRC's Vanga Geetha, would be given the TDP ticket again.
Sivarama Raju has already started his preparations for the contest by meeting people, establishing the party network and coordinating with leaders of the assembly segments under the constituency.
If Naidu obliges the request of Raghu Ramakrishna Raju, then it will create troubles in the party in Kakinada and might prove counter-productive. In such a case, the rebel YSRC MP might have to look for another Lok Sabha seat or alternatively, look for an MLA seat.
Even if Raghu Ramakrishna Raju joins the Jana Sena, the chances of him getting the Kakinada seat are bleak, in the event of a tie-up with the TDP. Pawan might not ask for more MP seats, but will concentrate on the assembly seats. So, uncertainty stares at the rebel MP!