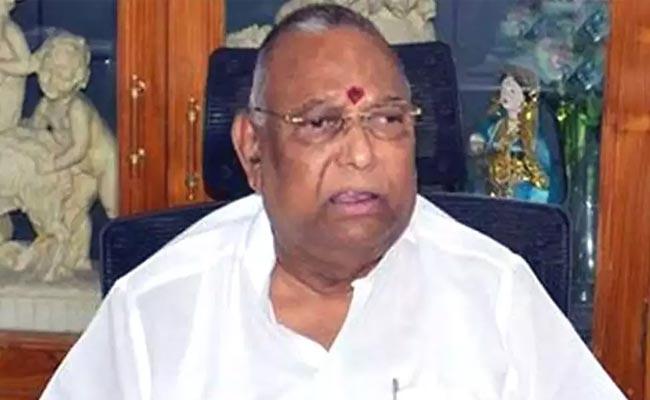 Telugu Desam Party president and former Andhra Pradesh chief minister N Chandrababu Naidu's reported plan to 'import' leaders from Kadapa to contest the forthcoming general elections from Narasaraopet is being strongly resisted by local leaders.
On Tuesday, former MP from Narasaraopet parliamentary constituency Rayapati Sambasiva Rao said he would not allow somebody from Kadapa to contest the Lok Sabha elections in his constituency.
He was referring to the reports that the TDP chief is contemplating fielding Putta Mahesh Yadav, son of former Tirumala Tirupati Devasthanams chairman Putta Sudhakar Yadav and son-in-law of former finance minister Yanamala Ramakrishnudu, from Narasraopet constituency.
"I don't know why Naidu is thinking of fielding outsiders in Narasaraopet. He will lose the elections here. The seat belongs to me. If Naidu is not interested in giving the ticket to me, he should field my son," Rayapati said.
He warned that if the TDP chief denies ticket to him or his son, he would contest as an independent, if necessary.
"But I will not keep quiet, if my seat is given to some outsiders. We shall not cooperate with such outsiders under any circumstances," the former MP said.
Rayapati also demanded that his family should be given two seats – for him and his son Ranga Rao. While Rayapati wants to contest for Lok Sabha, Ranga Rao is interested in contesting from one of three assembly seats – Guntur (West), Pedakurapadu or Sattenapalli.
According to the TDP sources, Naidu is considering the name of Mahesh Yadav because the Yadava community has a big vote bank in Narasaraopet.
He feels it will also have an impact on the adjacent constituencies by wooing the BCs, which are in large numbers in the Palnadu area, like in Gurajala, Vinukonda and Macherla.
In fact, Mahesh Yadav has already started actively touring Palnadu area and has been maintaining good relations with the local TDP leaders.
He has also become very active in the social media in the region. That is why, Rayapati group has become alert, sources said.