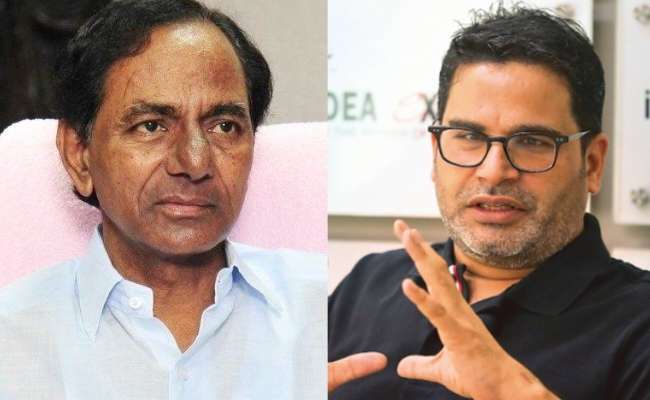 It has been more than six months since the ruling Telangana Rashtra Samithi headed by chief minister K Chandrasekhar Rao has hired Indian Political Action Committee (I-PAC) headed by political strategist Prashant Kishor to work out strategies for the party to return to power in Telangana for the third consecutive term.
Prashant held several rounds of discussions with KCR initially. He stayed in Pragathi Bhavan for two days and later at KCR's farmhouse at Erravelli. He, along with his team, toured several parts of Telangana, including KCR's own constituency Gajwel, besides visiting Kaleshwaram project along with actor Prakash Raj.
The I-PAC gave the initial feedback from the people on the prospects of the TRS in the next elections and worked out certain strategies, including strengthening of the party's social media network.
According to some media reports, Prashant Kishor, however, is terribly upset with the lack of cooperation from the TRS leadership. The I-PAC, which has recruited around 300 employees exclusively to work for the TRS in the next elections, has nothing much work to do, as there was absolutely no interaction with the TRS leadership on the future course of action.
Wherever the I-PAC works, the team leaders regularly interact with the party top leadership, discuss the strategies, submit the feedback obtain from the people from time to time and suggest remedial measures, if there are any lapses.
"But I-PAC team is surprised at the style of functioning of KCR and his family. There is absolutely no scope for regular interaction and one doesn't know what is there in the mind of the chief minister. As a result, the I-PAC team has little work to do in Telangana," the reports said.
Apparently, Prashant Kishor is not happy with the decision of KCR to disband the TRS and convert it into a national party – likely to be named as the Bharatiya Rashtriya Samithi (BRS) without discussing the nitty-gritty of the same with him or the I-PAC team.
"The chief minister's national party plans are not in sync with KCR's plans to return to power in Telangana for a third time. Prashant Kishor is confused on how to go about his plans in Telangana," the reports said.
They said the I-PAC has shifted 200 of its employees to Andhra Pradesh to help YSR Congress party, which also hired the committee for returning to power for a second term. "At least there, the I-PAC has a lot of work to do. However, there are still 100 people working in Telangana. Whenever the TRS asks the I-PAC to step up its work, they will swing into action," the reports said.