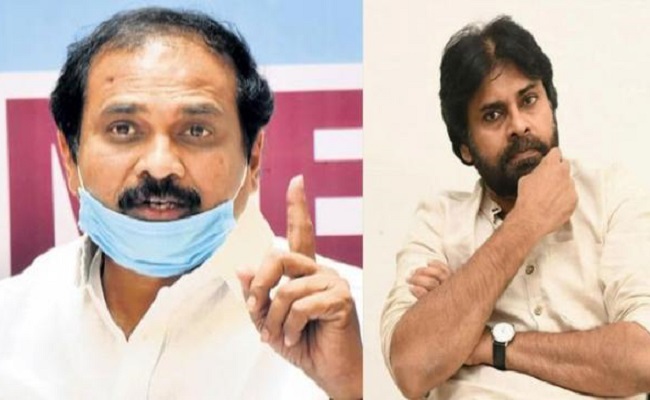 Not long ago, Jana Sena Party leaders have declared that party president and power star Pawan Kalyan would contest from Bhimavaram assembly constituency in West Godavari district in the next assembly elections as well.
In 2019, Pawan contested from two assembly seats -- Gajuwaka in Visakhapatnam and Bhimavaram but suffered a humiliating defeat in both the places.
This led to the talk that he might change his constituency in the next elections, as he was upset with the people, particularly the Kapu community, which is dominating both the constituencies where he had lost.
At one stage, there were reports that Pawan might shift to Tirupati assembly constituency, which was once represented by his brother – megastar Chiranjeevi in 2009. But in July 2022, his party leaders said Pawan is a fighter and will not give it up just like that.
They said he would search for his gains where he had lost in 2019. So, he would contest from Bhimavaram, though he would not opt for the second constituency this time.
They even said Pawan would set up his office at Bhimavaram and would regularly interact with the people and the party cadre.
"He will be accessible to the people of Bhimavaram and win their confidence," they said.
However, in the last six months, Pawan had not come to Bhimavaram at all, let alone setting up his office.
Even when Prime Minister Narendra Modi came to Bhimavaram to inaugurate the statue of Alluri Sitarama Raju, the power star did not turn despite getting the invitation.
Now, the latest talk is that Pawan Kalyan is planning to contest from Kakinada (rural) assembly constituency in the wake of the possibility of forging an alliance with the Telugu Desam Party.
Sources said the Jana Sena Party chief had got a survey conducted in some of the constituencies in erstwhile combined districts of East and West Godavari to find the constituencies where he has fair chances of winning.
Even in north-coastal Andhra districts, he is learnt to have got some positive indications for his contest and the local party units are bringing pressure on him. However, Pawan has finally zeroed in on Pithapuram and Kakinada (rural).
Among the two, the Jana Sena chief is said to be preferring Kakinada (rural), where the party has grown stronger in the recent times.
He is of the view that if he contests from this constituency, it would have an impact on the adjacent constituencies as well.
But here, the power star has to fight against former minister Kurasala Kanna Babu, who has consolidated his position.
Interestingly, Kanna Babu had been once a close follower of Pawan Kalyan and his mega brother Chiranjeevi when he was in Praja Rajyam Party.
Though Kanna Babu is still a fan of the mega family, he has turned a bitter critic of Pawan Kalyan later, because of the political compulsions.
So, it would be an interesting battle in Kakinada (rural) between the two leaders who were once close friends.