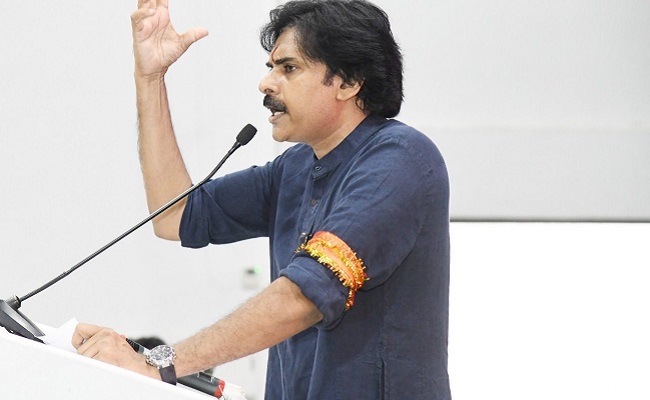 Jana Sena party chief and Tollywood actor Pawan Kalyan is most likely to shift his base from Hyderabad to Vijayawada permanently in a few months to take up full time politics so as to brace up for the next assembly elections in Andhra Pradesh in 2024.
Before 2019 assembly elections, too, Pawan declared that he had given up the lucrative profession of acting in films for the sake of politics and vowed not to return to films.
But after the party faced a humiliating defeat in the 2019 elections with he, himself, losing in both the seats he had fought, he gave up his vow.
He was back in the film industry on the pretext that the only way he could survive was through acting in films, as he had no other businesses like industries and newspapers. He began acting in films again and has been busy with one film after the other.
When everybody thought Pawan would continue till activity till 2023 and return to politics a year before the elections, he is learnt to have decided to advance his plans and take to full-time politics in early 2022 itself.
Sources said the Jana Sena Party president has decided to shift his base from Hyderabad to Vijayawada in another few months and become busy with full time political activity in Andhra Pradesh.
"He is planning to do serious politics and focus on his political programmes. Maybe, he has decided to change his original schedule after going through the talk that YSR Congress president and chief minister Y S Jagan Mohan Reddy might go in for mid-term elections," sources said.
At present, Pawan Kalyan is busy participating in the shooting for Bhimla Naik, which would take at least another one month to complete. Later, he has to finish another film Hari Hara Veera Mallu. However, it will take some more time, sources said.
During this interregnum period, Pawan would turn his attention on party activities in Andhra, before completing the remaining part of the film shooting. If time permits, he would take up his next movie to be produced by Mythri Movie Makers. If it is not possible, he might defer the shooting to after the elections.
A tweet from actor-producer Bandla Ganesh tagging director Harish Shankar indicated that the latter's film with Pawan might get postponed.
Though the tweet was removed and Harish Shankar said there was nothing to worry, it led to the talk that Pawan would like to take up films only after the next elections.
Meanwhile, sources said it was almost decided that Jana Sena Party would join hands with Telugu Desam Party in the next elections.
It is learnt Naidu himself was chalking out the election strategies of Pawan Kalyan. It is perhaps for this reason that Pawan is eager to shift his base to Vijayawada, sources added.