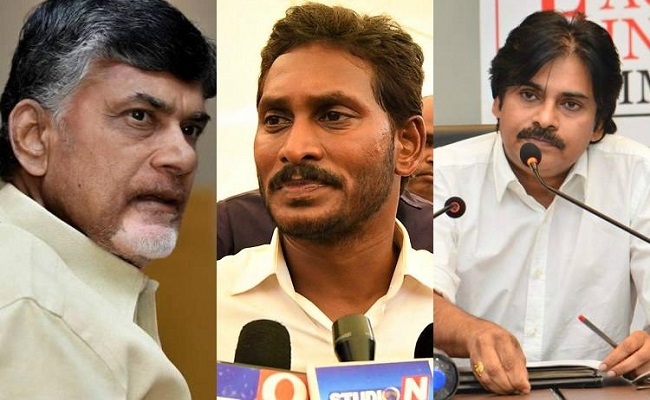 Jana Sena Party chief and actor Pawan Kalyan might be very much eager in entering into an alliance with Telugu Desam Party headed by former Andhra Pradesh chief minister N Chandrababu Naidu, in order to prevent split of anti-incumbency votes.
Even Naidu might be under the impression that by joining hands with Pawan Kalyan, his party would be able to garner the support of Kapu voters en masse at wherever the TDP contests.
He is said to be of the view that the Kamma-Kapu combination would deal a severe blow to the YSR Congress party led by chief minister Y S Jagan Mohan Reddy in the next assembly elections.
However, Jagan is learnt to have made a different calculation. He is of the view that an alliance between Pawan Kalyan and Naidu would be a blessing in disguise for the YSRC, rather than a setback.
According to YSRC sources, Kapu voters in general are not taking kindly the decision of Pawan Kalyan to join hands with the TDP led by Naidu. Traditionally, Kapus are out-and-out rivals of Kammas. The rivalry reached its peak after the murder of Vangaveeti Mohana Ranga in December 1988.
Though the young Kapu voters are favouring Pawan Kalyan, the middle-aged and older generation of Kapus are still angry with the Kamma community. They do not have faith in Pawan Kalyan, as was evident from the 2019 elections, in which Kapus voted for YSR Congress party, rather than Jana Sena.
So, if Jana Sena Party enters into an alliance with the TDP, Jagan is confident that there would be a split in the Kapu votes and majority of the Kapus would vote for YSR Congress party.
He is learnt to have told his Kapu ministers and MLAs the other day that there is no consistency in Kapu voting pattern. Even when megastar Chiranjeevi launched his political party Praja Rajyam, the Kapu voters had voted for Y S Rajasekhar Reddy-led Congress party and not Chiranjeevi.
"This time, too, there won't be any polarisation of Kapu votes. An alliance between Jana Sena and the TDP would split the Kapus more widely than when the two parties fight separately. That would be an advantage for us," Jagan reportedly said.
That is precisely why the chief minister has been harping on Jana Sena-TDP alliance at every meeting and calling Pawan Kalyan as an adopted son of Naidu.
He wants to establish the fact that Pawan and Naidu are colluding with each other to hoodwink the Kapu community, sources added.